One of the best places to dine and refresh oneself after a very tiring day of work is a restaurant bar. In Japan, we call restaurant bars as "Izakaya". Izakaya, literally, are places or restaurants in Japan where you can stay to drink alcoholic beverages which are also oftentimes served together with good food. What makes a typical Japanese restaurant bar or izakaya different from Western ones is the way customers remove their shoes, sit on tatami mats and dine on traditional Japanese tables. People usually go to izakayas by groups and sit on tables of 4 or more. Although solo goers are also welcome. Depending on the izakaya, non-traditional customers can also opt to dine with the usual Western-style table and chair. Izakayas are famous all over Japan. But a metropolitan city like Tokyo still has something unique with its izakayas which make them famous locally and internationally because these are bars you won't just see in a typical town. Here are 10 of the unique and unusual izakayas in Tokyo which you would like to visit during your stay in Japan.
1. NINJA AKASAKA
Drink and dine with the Ninjas!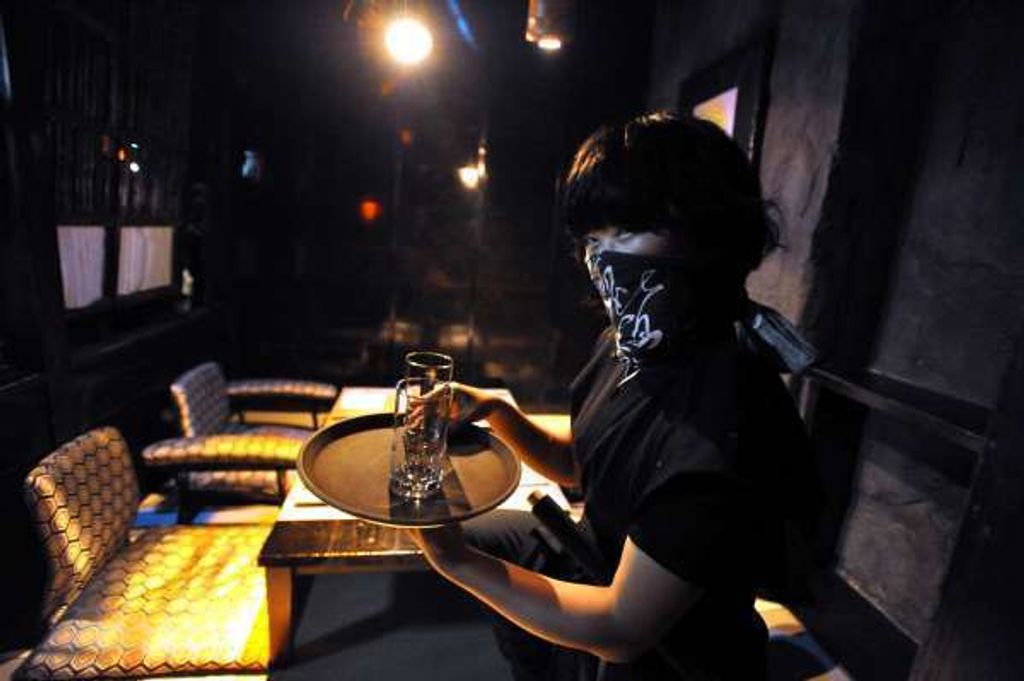 Visit this ninja-themed izakaya in present day Tokyo which lets you experience dining inside a ninja mansion, complete with the perfect Japanese ninja era atmosphere. The restaurant's interior involve cave-like passageways, bridges, ponds, and gardens. Enjoy not only their menu and alcoholic beverages, but also the hospitality and good customer service of their waiters dressed in ninja attires. Every customer will surely feel being back to the former centuries as the ninja waiters cater to their orders while role-playing as actual ninjas by the sides.
NINJA AKASAKA's feature their signature ninja-inspired courses which include Shuriken star-blades grissini, Mont Blanc of vegetables, chicken fritter ninja-style, special stone-boiled soup, etc. Being famous for a very tourist-friendly restaurant in Tokyo, they also have limited courses such as vegetarian course, and pork and alcohol-free courses for customers who have limited food choices, but would still like to enjoy the ninja experience at NINJA AKASAKA.
http://www.ninjaakasaka.com/
2. Little TGV
Casual train-themed bar and restaurant.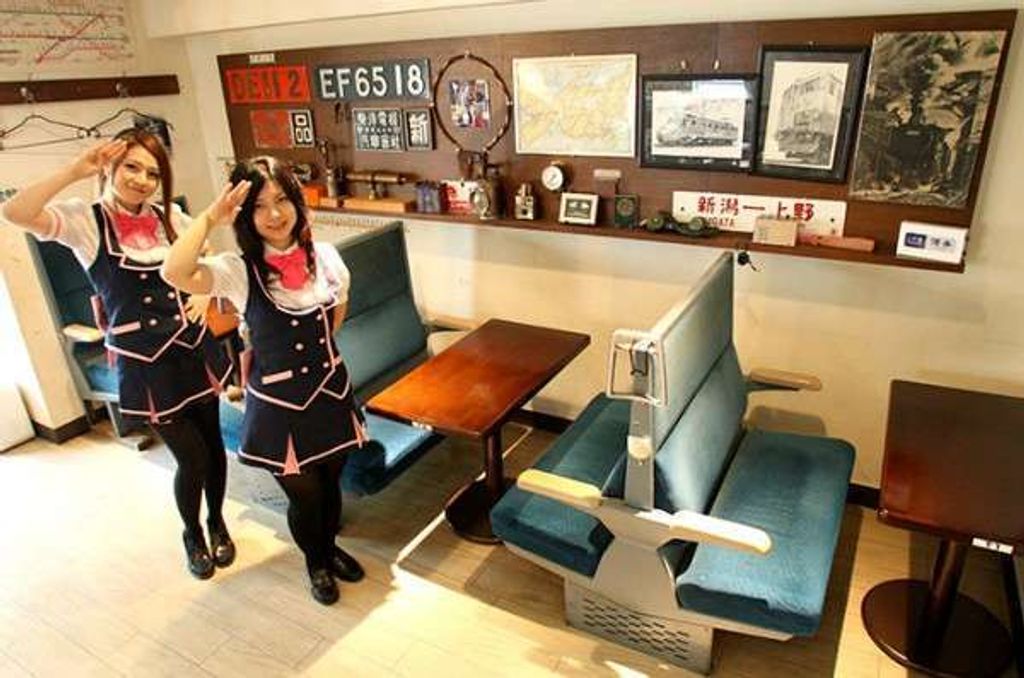 Little TGV is yet another one of Tokyo's unique restaurant bars with its train-themed interior and hospitable crew dressed in cute train station staff uniforms. These cute train staff waitresses warmly welcomes you as you enter the premises of this uniquely themed izakaya which makes it a must-go for local and foreign tourists alike.
Little TGV features an eye-catching and delicious menu of food and drinks inspired from the colors and shapes of railroads and different trains all over the country. Some of them are the tamagoyaki (grilled egg rolls) shaped as small little train cars with nori (dried seaweed) as accents to represent the train's windows and doors. Also, inside Little TGV is an exhibit of the N Scale model railway.
http://littletgv.com/
3. Alcatraz E.R.
Experience dining inside a prison hospital.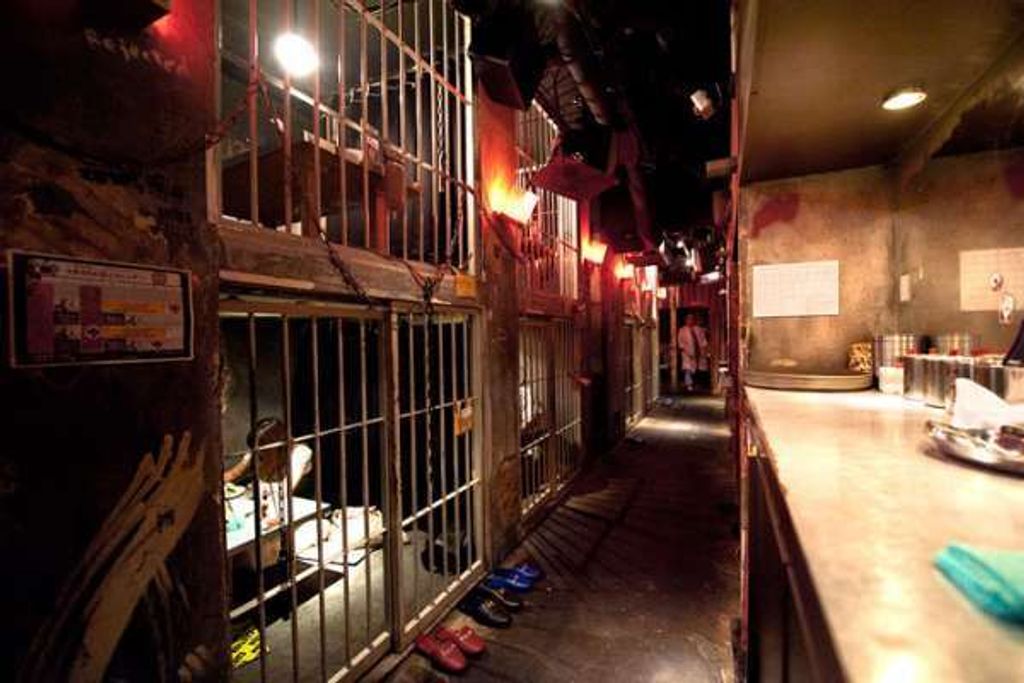 Experience being in a prison hospital as policewomen in mini-skirts arrest you and put you on handcuffs, while being nursed by moe (Japanese slang word referring to a fictional perfect young girl) and sexy nurses, only in Alcatraz Emergency Room/E.R. Also be amused while watching the nightly live shows featuring the world's legendary jail-breaking stories as you enjoy your glass of original alcoholic drink.
One of the points which made Alcatraz E.R. very famous to local and foreign travelers is its out-of-the-ordinary private rooms purposely designed to look like medical rooms, ICUs, and morgues. These private rooms range in capacity from 4-50 people. Another unique feature to Alcatraz E.R. is their signature beverages which are served in glasses shaped as test tubes, beakers, syringes, and all other medical tools and equipment. This bar is perfect for celebrations, birthday and victory parties, and the like.
http://alcatraz-er.net/
4. Yurei Bar (Japanese ghost bar)
Be served food for the ghosts by ghost-waitresses.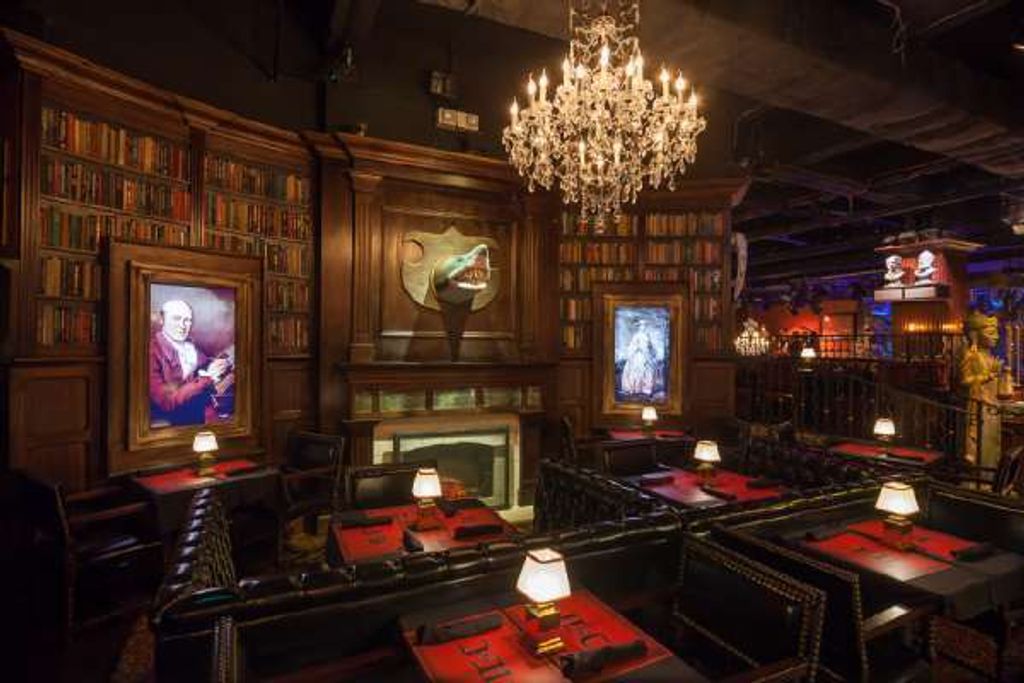 Ever wanted to try dining while enjoying some little horror moments? Yuurei Bar, one of those extraordinary restaurant bars unique to Japan might be the exact place you are looking for. "Yuurei" is a Japanese word which literally means "Japanese ghost", or a "departed soul". The restaurant's concept is to offer chills and scares to their customers while having their tasty meals at a horror house-inspired interior. Part of their services is a small bell near your table which apparently calls the attention of a ghost once rung. These ghosts are actually staff persons dressed in yuurei costumes who attend to the customer's call, in a scary yet horrifyingly elegant way.
http://yurei.jp/
5. The LockUp
Get locked up in a prison cell.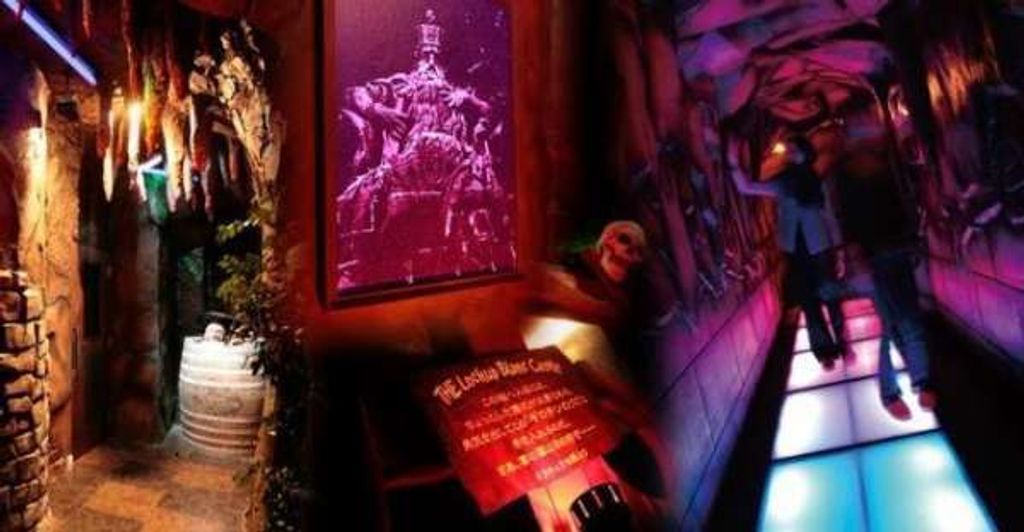 In the LockUp, you will experience being handcuffed by sexy space cops who will assist you to your prison cell. There you will be locked-up and served the food you order. The LockUp's menu features a lot of interesting prison cell-themed food and alcoholic beverages presented in glass syringes, test tubes, beakers, and the like. The atmosphere inside the bar is creepy at the same time too due to the disturbing designs of the doors, corridors, and some side exhibitions (including a monument of a man in an electric chair) which will make every customer feel the ambiance of being a prisoner in jail.
http://www.lock-up.jp
6. Zauo Fishing Bar and Restaurant
Catch your own fish on-the-spot and dine.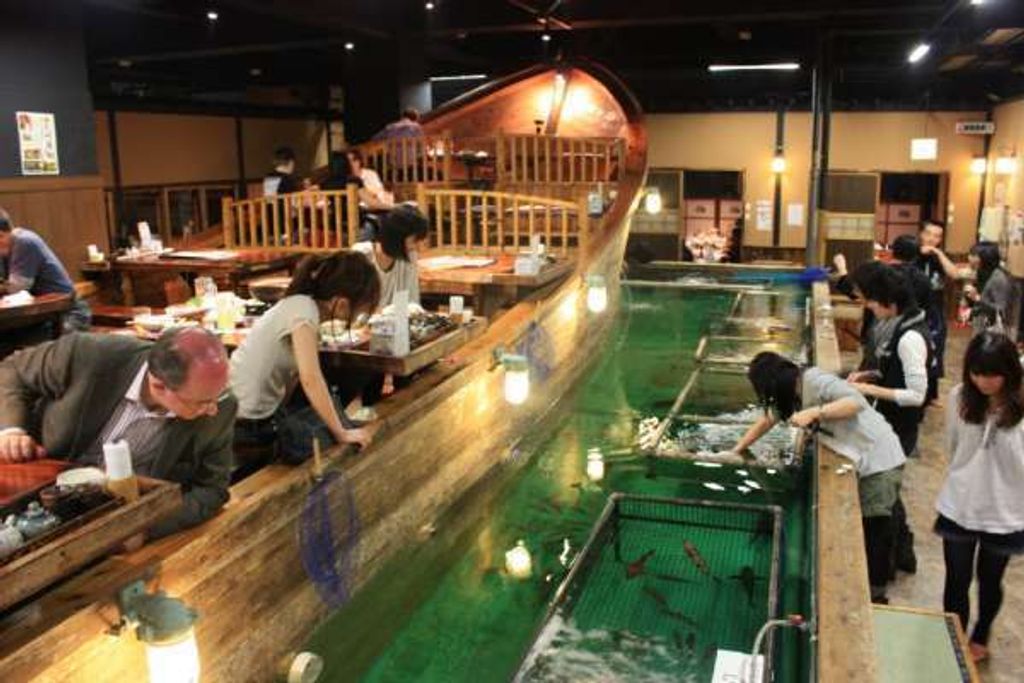 Ever tried catching your own fish, having it cooked, then eating it right on the spot where you caught it? At Zauo Fishing Bar and Restaurant, you are given the chance to catch your own fish fresh from the water. Customers sit on chairs and tables boarded on a large boat surrounded by water, and of course, fish.
Zauo restaurants are famous for fish made into sashimi or raw slices of fish in order to take advantage of actually catching them fresh. Upon entrance to the restaurant, you will be provided with a menu and the prices of the fish you can catch. Once you've decided, waiters will give you a fishing rod and some bait which also comes at a separate price from the fish itself. They have lobsters, shrimps, horse mackerel, shellfish, eel, sea bream, Japanese sea snail, and more of your favorite seafood delights.
http://www.zauo.com/
7. Akabane Reien Bar
Haunted house-themed bar and restaurant.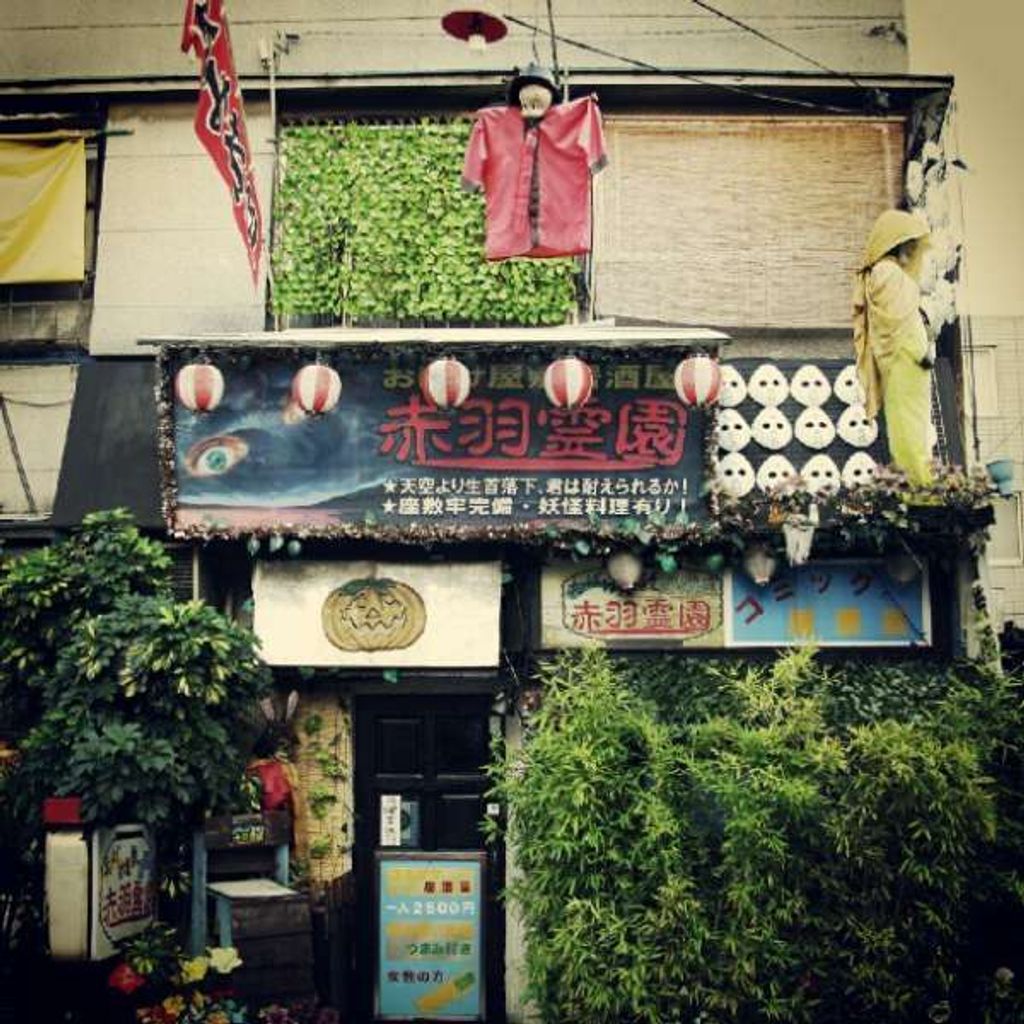 Yes, a haunted house restaurant as it is, Akabane Reien Bar. Get the chills and be surprised by freshly severed head falling off from the ceiling (they are not real heads though, of course), wandering monsters and ghosts, extra creepy wall designs, furniture, and accents. But Akabane Reien Bar offers more than scary restaurant interior and horror-themed menu and drinks.
As a haunted house itself, expect surprises all the time as you enjoy your little snack for you don't know when these ghost attacks will happen. They also offer unlimited beer and other alcoholic beverage services. This out-of-the-ordinary restaurant is perfect for people who are fond of getting scares, and enjoying the moment with their friends and loved ones.
http://tabelog.com/tokyo/A1323/A132305/13076930/
8. Sengoku Buyuden (The legend of the brave)
Travel back to ancient Japan.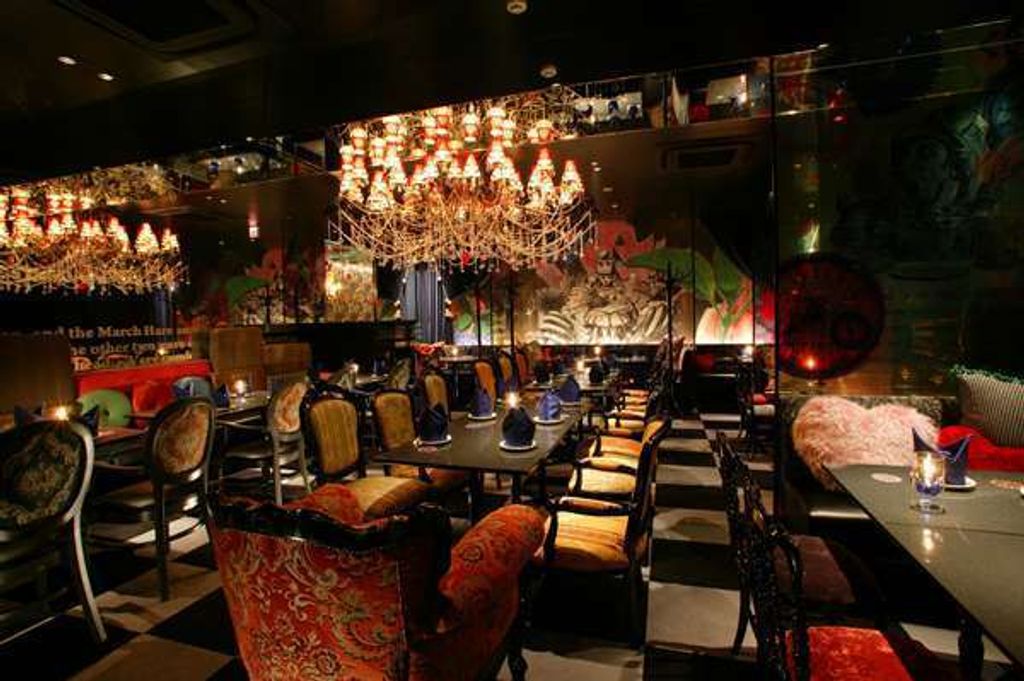 Experience historical Japan during the Sengoku period in Sengoku Buyuden restaurant where samurai warriors (a Japanese military class during the olden times) are the main attraction. The restaurant features a couple of private rooms where customers dine. The prehistoric interior design and atmosphere in these private rooms aim to give the customers an idea the samurai way of living in Japan during the primeval times. Different kinds of replica armor, family crests, flags, and a whole lot more of the ancient Japan can also be seen inside the restaurant.
As a special offer, foreign tourist customers get to receive a ninja sword as a souvenir from the restaurant itself. Foreign travellers who are specially interested in these kind of mementos should definitely not miss the chance.
http://www.diamond-dining.com/shop_info/sengoku-buyuden/
9.

Namahage Ginzaten
Japanese style hotpot restaurant.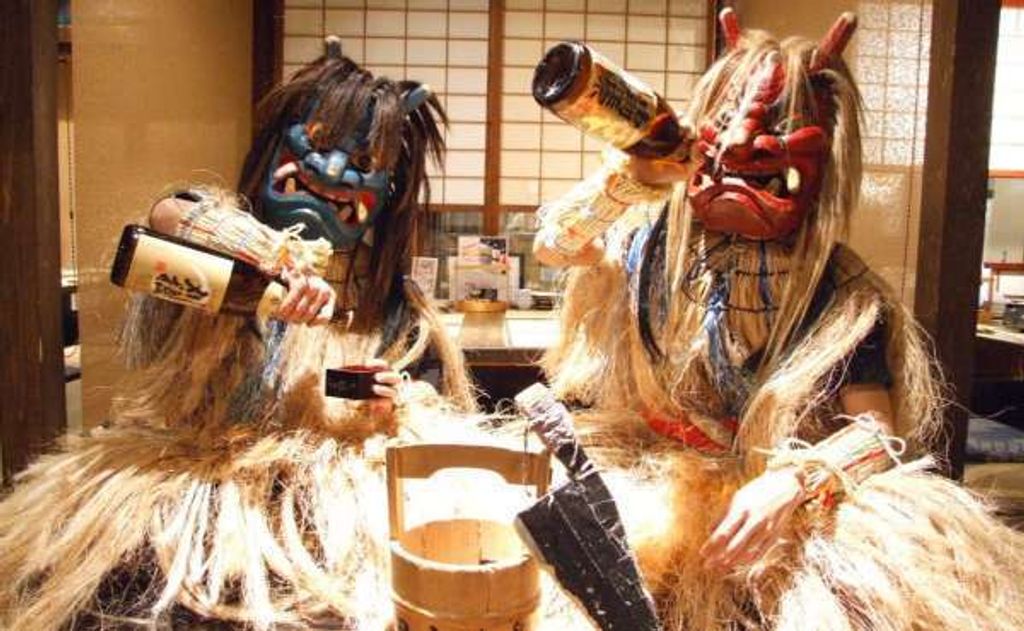 If you still can't get enough of Japanese folklore, then Namahage Ginzaten is an izakaya recommendation for you. "Namahage" is a demon-like being in ancient Japanese folklore. By the name itself, it features the ancient Japanese folklore, particularly the Namahage as its main theme. The restaurant is based inside a traditional Japanese hut with thatched roof which gives off that ancient Japanese vibes to their customers. The restaurant bar also features live Namahage shows for their customers to enjoy while dining and drinking their good cup of sake (Japanese wine).
http://www.akita-namahage.jp/ginza
10.

Awa Odori Restaurant
Dine and have fun with live dance performances.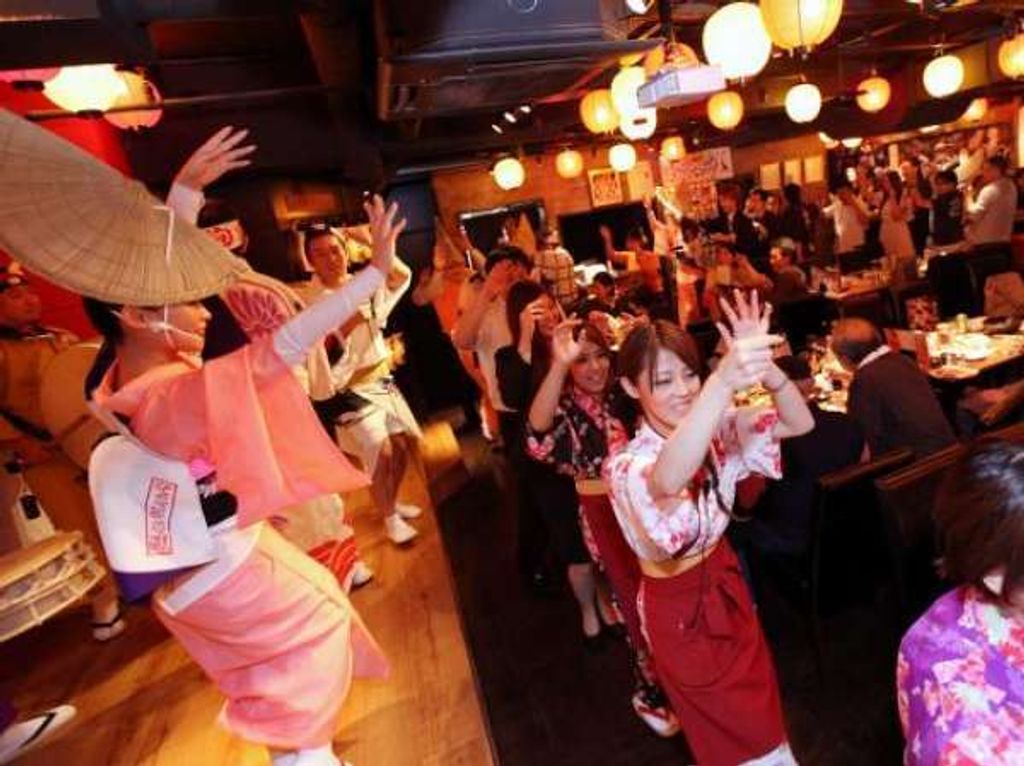 Awa Odori restaurant specializes in Tokushima cuisine. Tokushima is a town in Shikoku island famous for its Awa Odori (a local Japanese dance festival). The restaurant features live Awa Odori performances from different dance and performing groups all over Japan.
http://r.gnavi.co.jp/g600110/
Experience a different side of the world!
Hard work must always, or at least be complimented by treating yourself from time to time for a job well done. Dropping by the usual restaurant bars do get the job done, but paying a visit to one or two of the 10 themed izakayas listed above will give you a newer experience when it comes to after-work relaxation and stress emission. Not only do izakayas provide the locals with alcoholic refreshments, but also the tourists who would want to experience high-quality and unique bar experience in Japan.
Make your trip the best.
Everywhere in Tokyo have something different, it is almost impossible to walk through the Tokyo streets without seeing something new or feeling like in movies, but you have your interests and some things can disappoint you if you don't go to the right place.
Due to this, it is good to be with people that understand the place. You are in your trip and want to take the best from the country in your short time there. For this, we recommend you to contact one of our guides. They can orientate you and you will certainly go to the right places, save your time and have a better experience. But if you think that it is terrible to make trips with guides and have to follow a schedule, we present you the differential of GoWithGuide, you can customizable your itinerary following your interests and also go on your time, without needing rushing. Furthermore, you don't need to be in a huge group, you can only with the people you are traveling and that you care, learning more about the culture and history of the place.
But you probably think that all this will be so expensive, right? No.
GoWithGuide offers private guides to make customizable itineraries, tours to guide you to the best spots and private cars to you to be able to navigate Narita and Japan without depending on public transportation, all these for an affordable price.
Watch the following video to know more.
Blogs about Tokyo
Tokyo Tour Guide - What is a Good Tour Guide
Best Areas to Stay in Tokyo - Where to Stay in Tokyo?