Congratulations! You've booked your ticket to Tokyo, paid for your accommodations, and is on your merry way to your favorite attractions spot. But wait,...
You're suddenly craving for some food!
Don't worry, I got you covered! Here in this article, I have narrowed down the best restaurants in Tokyo. Hop on!
Tokyo's Best Foods
Admittedly, Tokyo is a huge metropolitan city that has a lot of good foods, if only one knows how to find them. You can find an abundance of Japanese foods and other international foods. Parts of the city could even seem like a whole different country simply because of the number of foreign restaurants that lined up the area (example: the Okubo "Korean-town" area)
However, for the sake of making the choice easier for you, I will narrow down your option into two categories: Snacks and Main Dish!
Snacks
….or, as I call it, Appetizers. You can simply get full out of eating these snacks during your trip around Tokyo! Here are some of my favorites and recommendations.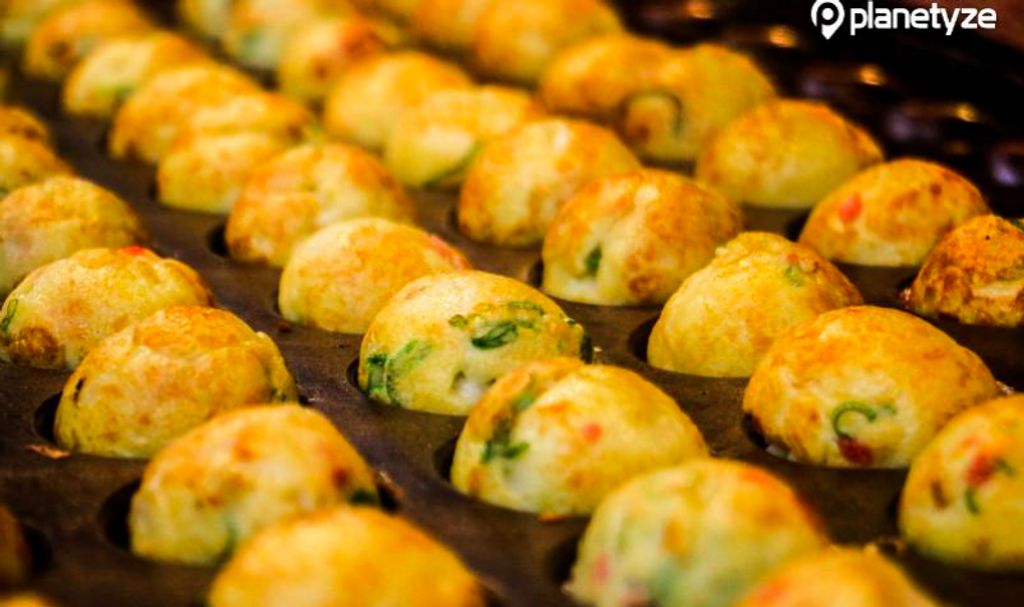 Gindaco
This is a famous takoyaki bar that could be found anywhere in Tokyo area. Prices start from 550 yen for 8 takoyaki balls. They have a lot of other options on their menus, such as cheese or butter toppings. The best way to eat them is to pair them with beer! Not the healthiest menu on the list, but it sure is one of the most satisfying ones!
Some of their chains also recently start selling Taiyaki (sweet cakes filled with traditional red bean paste or custard cream). I am not really a big fan of their Taiyaki, but it's still worth it if you want to try something else other than Takoyaki.
Although they have their shops open almost in every major station in Tokyo, I would give you their most famous chain in Harajuku area, which is quite well-known among tourists.
| | |
| --- | --- |
| Location | Gindaco Harajuku (map) |
| Price | 550 yen ~ |
| Hours | 11.00 - 22.00 |
Gyouza Rou (or, Gyoza Lou)
While gyouza does not actually come from Japan, it has been adopted into one of Japan's most favorite comfort food. You can find Gyouza anywhere in Tokyo, and most ramen restaurants usually sell them too.
However, Gyouza Rou is different. Located in Omotesando (which is just a little walk from Harajuku), it is not rare to see patrons queueing up outside this shop. They only have 2 menus, which is the fried and the steamed gyoza. Each of them comes in a set of 6 pieces, which would only cost you 290 yen!
Again, most Japanese would eat them with beer, so you might want to try that too!
| | |
| --- | --- |
| Location | Gyoza Rou (map) |
| Price | 290 yen ~ |
| Hours | 11.30 - 16.30 |
Mamo Kebab
While walking around Tokyo, you might be surprised to find out that there's quite a lot of Kebab stands. Although in my mouth they all taste quite similar, I still have my own favorite. Mamo Kebab has a shop in both Shibuya and Harajuku area.
What I like from this place is that their size is not too over the top and that you can choose the sauce that you want. Prices start from 500 yen. Moreover, it's also one of the Halal foods around Tokyo!
Location

Mamo Kebab Shibuya (map)

Mamo Kebab Harajuku (map)

Price

500 yen ~

Hours

10.00 - 21.00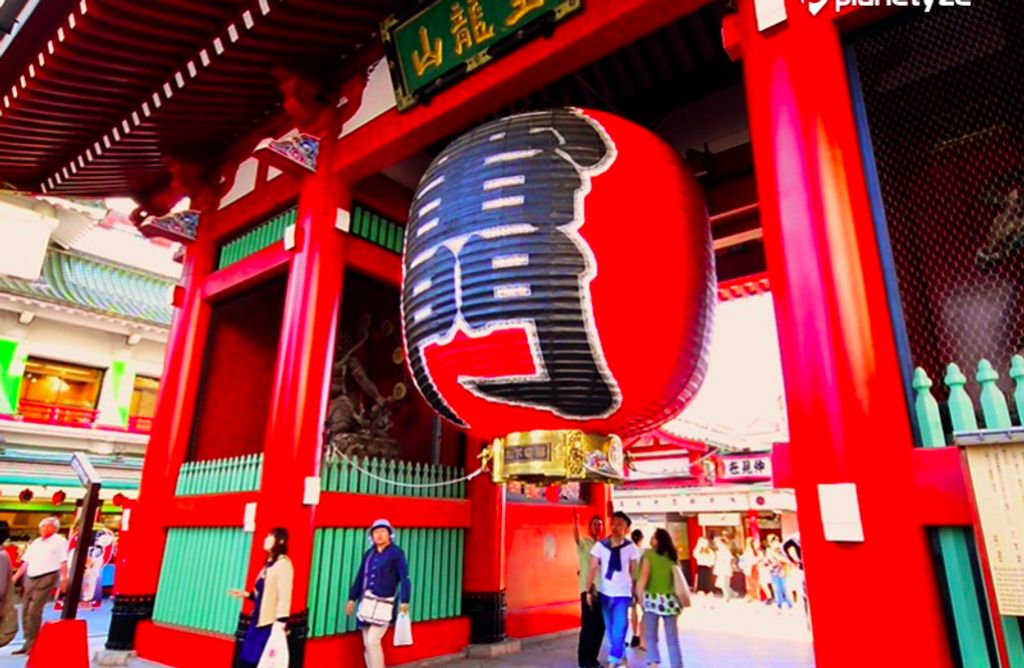 Take a stroll down Nakamise Street
While I can't mention each food available on this street, you can definitely try some traditional Japanese snacks in here. Nakamise Dori (Nakamise Street) is the road that leads to Senso-ji Temple in Asakusa.
If you do go here, I would at least recommend you to try some warabi-mochi, which is a soft mochi that is covered in kinako (dried soybean powder) or matcha powder.
There are many other street foods that you can try in the area. Moreover, you don't really need to go out of your way since you can visit it during your sightseeing trip to Senso-ji!
| | |
| --- | --- |
| Location | Nakamise Street (map) |
| Hours | 10.00 - 17.00 |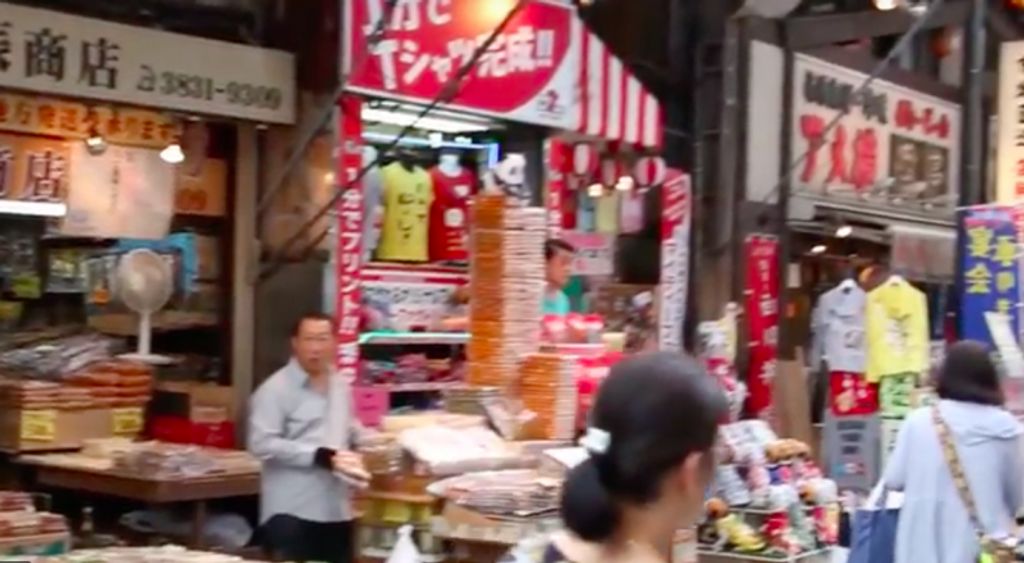 Go down Ameya-Yokocho
This is a famous place to find street foods in Tokyo! In here, you can find various restaurants and street vendors offering different kinds of cuisines. Not only that, but there are also various shops that paved this street offering different kinds of things which does not necessarily means food.
Here's the thing I like about this place:
This is the one place in Tokyo where you can find fruits on a stick.
Fruits in Japan is actually not that rare, but for someone who came from a tropical country filled with all different kinds of fruits, Japan's options for these juicy treats are rather limited. That's why I always bought these kinds of fruit snacks whenever I visit Ameya-Yokocho!
You might want to try them too. They're best eaten during a hot summer day!
Location

Ameya-Yokocho (map)

Price

Fruits on a stick starts at 100 yen ~

Hours

09.00 - 19.00

Depending on each facility
If you want to find more street foods around Tokyo, then I suggest you join the street food tour. It would definitely save you time from trying to find the usually hidden spots. Talking about secret gems, I would also recommend you to join this hidden gem food tours to find locals' favorite restaurants!
Let's move on to the main dish!
Main Dish
Tokyo, as you might have noticed by now, have a large option of both Japanese traditional foods and other international cuisines. In this section, I will list some of my favorite restaurants based on the menus. Hop on!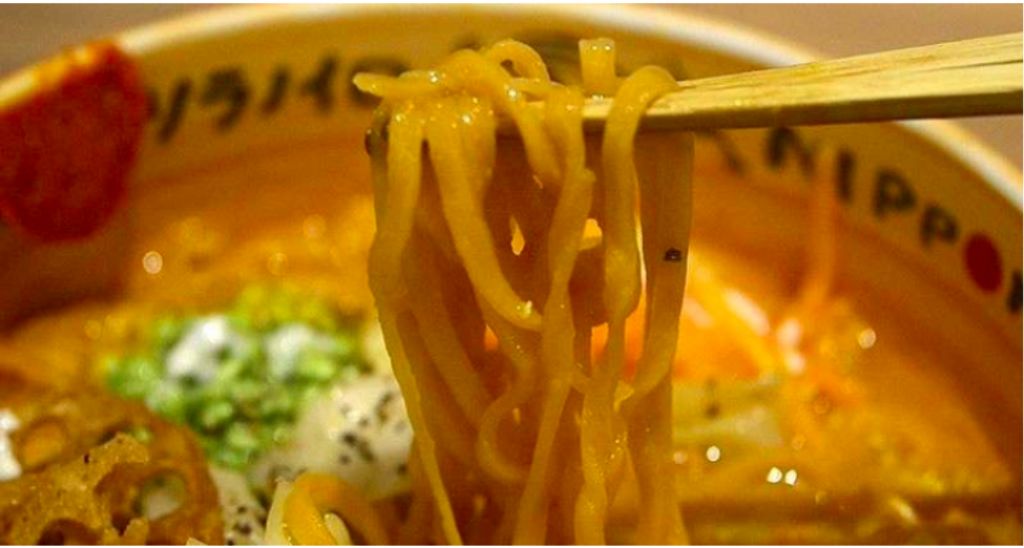 Ramen
1. Ichiran Ramen
This name might not be strange to you anymore. Ichiran is perhaps the most famous ramen amongst tourists. Ichiran is actually original to Fukuoka, which is famous for their Hakata-style Ramen.
Hakata-style Ramen is typical with white broth from that comes from boiled down pork bones, and their thin straight noodles. Eating at Ichiran themselves is a unique experience since you would be seated at a personal booth to make sure you can concentrate on the taste of the ramen.
Because of their popularity, they have made new shops around major spots around Tokyo. You might want to come a little bit earlier since this shop tends to attract large crowds during lunch and dinner time.
| | |
| --- | --- |
| Location | Ichiran Ramen (map) |
| Price | 900 yen ~ |
| Hours | Differs from place to place |

2. Mutekiya Ramen
This is the perfect ramen for pork lovers! They only have one store open in Ikebukuro, Tokyo. They have a unique nori (seaweed) that is stamped with their shop name. Mutekiya is famous for their Tonkotsu ramen, with pork-based broth. They also have different versions of tonkotsu ramen, and their topping is simply excellent.
Here's the thing about Mutekiya:
Be prepared to wait at least 1.5 hours to get seated.
Forty percent of their visitors are foreigners. That's why they have menus in various different languages. However, since it is also famous amongst locals and the fact that they only seat a maximum of 17 people makes the waiting time longer during lunch hours.
If you have time to spare, Mutekiya is definitely a ramen restaurant you don't want to miss!
| | |
| --- | --- |
| Location | Mutekiya Ramen (map) |
| Price | 1,000 yen ~ |
| Hours | 10.30 - 16.00 |

3. Menya Kaijin
Although this restaurant also offers the usual pork-based and chicken-based broth, their most famous menu is the seafood ramen that with seafood-based broth. Visitors claimed that although the place seems to blend into the background, their exceptional seafood ramen taste could give famous ramen chains like Ichiran a run for their money.
It's also one of a few Halal ramen restaurants in Tokyo!
Location

Menya Kaijin (map)

Price

1000 yen ~

Hours

11.00 - 15.00

16.30 - 23.30

4. Tokyo Ramen Street
Below Tokyo's Station Yaesu Underground Exit, lays the famous Tokyo Ramen Street. Here, you could find 8 ramen restaurants that represent ramen's taste from different parts of Japan. Each shop have their own specialty!
Be sure to stop by this place during your Tokyo trip!
| | |
| --- | --- |
| Location | Tokyo Ramen Street (map) |
| Price | 900 yen ~ |
| Hours | 11.00 - 22.30 |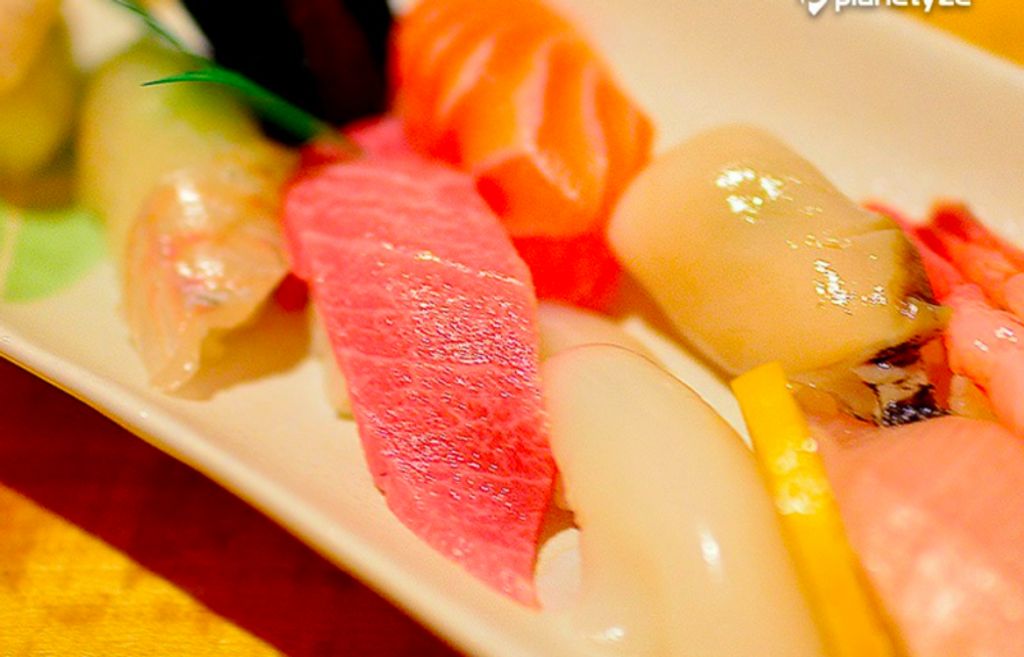 Sushi
Sushi Dai
One of the most well-known sushi restaurant in Tokyo. It is located in Tsukiji Fish Market and is very famous among both locals and foreigners. People could be seen lining up in front of the shop from as early as 03.00 AM. They only use the freshest ingredient from the Tsukiji Market, and their most famous set (the Omakase set) starts at 4,000 yen.
Location

Sushi Dai (map)

Schedule

05.00 - 14.00

Closed on Sundays

Phone

03 3547 6797
Daiwa Zushi
The owner of this restaurant is rumored to be the son of Sushi Dai's owner. It was said that they compete against each other to get the most patrons. This place is more well-known amongst visitors since they have translated their menus into various other languages. Their specialty (omakase set) starts at 3,500 yen. Plus, their place is bigger than Sushi Dai, which means the queues is faster than the Sushi Dai.
If you are planning to skip some waiting time at Sushi Dai, I recommend you to go to Daiwa Zushi instead.
Location

Daiwa Zushi (map)

Schedule

05.30 - 13.30

Closed on Sundays

Phone

03 3547 6807
Try some Kaiten sushi!
Kaiten sushi, or conveyor-belt sushi, is a sure way to get your stomach full with a cheap price! Most of these kaiten sushi restaurants usually sell cheap ramen that starts 100 yen (excluding price). Some examples of these restaurants are Genki Sushi, Uobei Sushi, Sushi-Ro, and Kura Sushi.
If you're on a limited budget, I advise you to get your sushi fix at these joints!
| | |
| --- | --- |
| Locations | |
| Schedule | Differs from place to place |
If you want to experience more from Tsukiji, and possibly get to eat at the best sushi restaurants in Tsukiji, then I recommend you to join this Tsukiji Breakfast tour or Tsukiji Fish Market Walking Tour.
Yakitori
Yakitori is the go-to food for tired salaryman. It's cheap, delicious, and the perfect companion to the all-time favorite nama biiru (beer, obviously). Although you can basically find yakitori bars and restaurants anywhere around Tokyo, here are some of my personal recommendations!
Tatsuya
Located in Ebisu, this restaurant is quite easy to find with their trademark red lanterns. Of course, they have a lot of other options in their menu that doesn't necessarily include chicken.
This restaurant covers two floors, the ground floor, and the basement. While the ground floor could become quite rowdy during evening hours, visitors mentioned that the basement floor remains relatively quiet and pleasant.
Location

Tatsuya (map)

Hours

08.00 - 05.00

Sunday and National Holidays

08.00 - 22.00
Tori Kizoku
This particular restaurant is quite easy to find in Tokyo area. They sell cheap food, along with vast options of alcoholic beverages. If you have a large group coming, you might want to book first beforehand because they tend to have a little bit of queue during rush-hours.
Their food comes along with free pickles and cabbages, which you can refill as much as you want!
Location

Torikizoku (map)

Hours

Differs from place to place

Usually in the evening

Okonomiyaki
Okonomiyaki is fried pancakes with various fillings. It is often mixed with cabbages to give them more shape and volumes. Alternatively, some okonomiyaki restaurant also sells monjya which is a more watery type of okonomiyaki. I suggest you try the okonomiyaki first before delving right into monjya, since eating monjya might be a new and unfamiliar experience for most people.
Okonomiyaki Kiji
This restaurant got a lot of patrons in the recent years, and quite a few of them are foreign visitors. This is probably because their shops are open in both Shinagawa and Tokyo, which is en route to both Narita and Haneda Airports.
Originally from Osaka, this restaurant got a little bit of a waiting list during lunch hours. You might want to come a little bit earlier to make sure you get a spot!
Location

Okonomiyaki Kiji (map)

Hours

11.00 - 15.30

17.00 - 23.00
Zen Okonomiyaki
Don't you want to try Hiroshima style okonomiyaki? Hiroshima is actually known for their Okonomiyaki. Luckily, you don't need to go as far as Hiroshima to actually taste their original cuisine.
Zen Okonomiyaki is located in Shinjuku. It is pretty famous amongst foreigners, and they even have their menus translated into English to make it easier for tourists. Even if you don't know how to make one, you can just ask the staff to make it for you!
| | |
| --- | --- |
| Location | Zen Okonomiyaki (map) |
| Hours | 17.00 - 24.00 |
International Cuisine
If you spent more than 5 days in Tokyo, you might've gotten bored of all the Japanese cuisines.
Don't worry!
I have a few recommendations for you to spice up your taste palate.
Kaithong Tokyo
This restaurant came from Thailand, back in 2015. Their shop in Thailand has been opened since the 1960s and has their own share of faithful patrons. Now, their shop in Shibuya has also gathered a fair number of followers from both locals and international visitors.
Their menu consists Hainanese-style Chicken Rice. A set will cost you 800 yen and will consist of tender chicken on top of fragrant Hainanese-style Chicken rice, served with soup and a spicy Thai dip-sauce.
There might be some queue waiting for you if you arrive during rush hours!
| | |
| --- | --- |
| Location | Kaithong Tokyo (map) |
| Hours | 11.00 - 22.00 |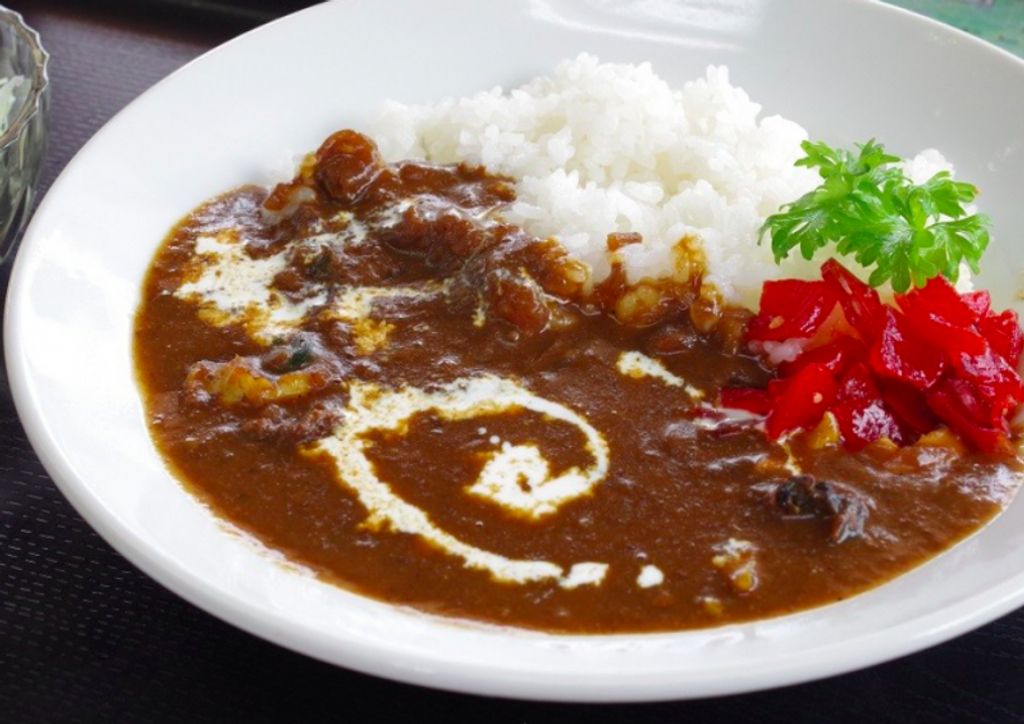 Nakaei Curry
Mind you, this is not the usual Indian curry. Rather, the Japanese version of curry. Located in Tsukiji, this restaurant has a history of over a century. Their curry tastes stronger than the usual Japanese curry since they spent almost 2 days to cook them, thus making the taste stand out more.
| | |
| --- | --- |
| Location | Nakaei Curry (map) |
| Hours | 05.00 - 14.00 |
And The Friet
It's everyone favorite comfort food…..deep-fried chips! Taking inspiration from friet (chip van) in Amsterdam, this street food place in Hiroo offers you various options for your guilty pleasures. You can choose between Japanese styled chips, curls, Belgian style, wedges, or even sweet potatoes. Then choose the sauce that you want and you're good to go!
| | |
| --- | --- |
| Location | And The Friet (map) |
| Hours | 10.00 - 21.00 |
If you would like to find unique culinary spots around Tokyo, then I recommend you to join this All-Star Food Tour. Furthermore, since Japan is quite known of the Kawaii culture, I suggest you find unique foods that go with the Kawaii style by following this Crazy Cute Kawaii Food Tour.
For those of you who would like to join a foodie tour, I suggest the list of available tours in this link here!
More Tips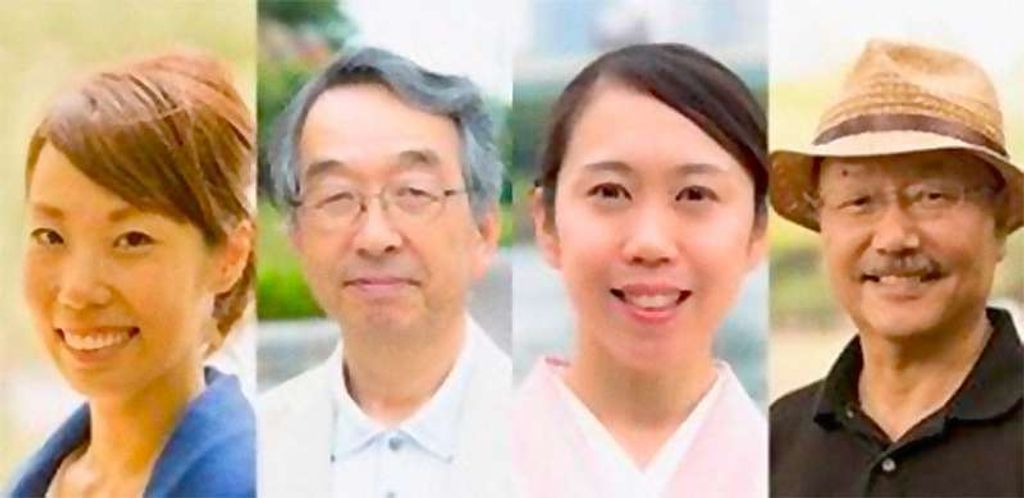 Look;
Finding local delicacies might be difficult if you're not familiar with the terrain.
Fret not!
In order to get the most out of your culinary experiences, I suggest you hire a private guide! Your guide would be able to take you to the well-kept secrets of local establishments with excellent foods. Moreover, your guide could also take you sightseeing around Tokyo without wasting your time navigating through Tokyo's complex public transport system.
If you are planning to book a guide, I recommend you to get one from Triplelights! They have the best list of guides that would take you around Tokyo in no time at all. Furthermore, they also have the best customer service to make sure you get someone who understands your needs and preferences.
In this article, I have reviewed a few of my favorite best restaurants in Tokyo. I hope this article would help your journey and wish you the best of luck on your Tokyo Trip!