Minato Ward in Tokyo features a mix of art, fashion, and culture. Landmarks such as Tokyo Tower can be found here. Art galleries, museums, and a sky view of Tokyo await. Planning on venturing further afield? Then why not cross the Rainbow Bridge, one of Japan's most well known night views, and gateway to Odaiba. Here are our six highlights:
1. Roppongi Hills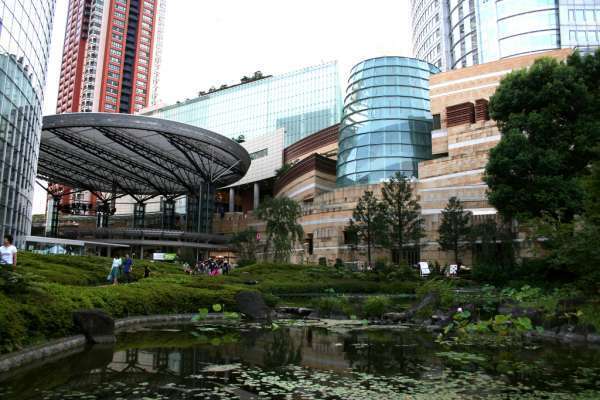 Half of the complex is open space. Along with a garden and outdoor space, there is the observation deck, a museum of art, movie theaters, shopping, a hotel and every other sort of facility. The Sky Deck of Tokyo City View at the top of Roppongi Hills has plenty of that feeling of openness. The air up there feels exhilarating! Every fourth Friday, there is a meeting of the Roppongi Astronomy Society. On New Year's Day, there is a raffle to see the first sunrise of the year. In the Japanese-style Mohri Garden at Roppongi Hills, there is a waterfall, rivers & streams, cherry and gingko trees around a pond in a huge area measuring 4300 sq. meters. You can feel the scenery for each season even within the middle of a metropolis. Even before the development of this area, people took walks in the spring while looking up at the cherry trees permanently rooted here. At the northern part, there is a photo spot on the northern promenade where you can see Tokyo Tower beyond the cherry trees.
Within the New Year's holiday events, there is an old-fashioned Japanese amusement corner and workshops held for the entire family. There are plenty of family-friendly events such as flea markets and a handicraft market. Also, there are many facilities for meals, shopping and services for people bringing small children along. There is a free-of-charge rest space and a nursery naturally with baby carriage rentals, and every Thursday, Toho Cinemas shows movies for only people bringing babies. At the Mori Art Museum, there is an art appreciation tour, "Art Baby Carriage Tour for Parents and Children" held on an indeterminate schedule. We would love you to come and visit a place that has been the catalyst for the evolution of Roppongi.
Admission: Free
- Guidebook from Planetyze about Roppongi Hills
- Reviews from TripAdvisor about Roppongi Hills
- Tours of Roppongi Hills
2. Rainbow Bridge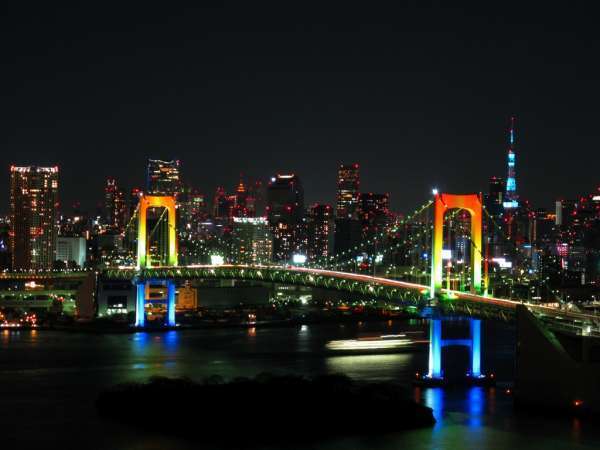 Rainbow Bridge is a suspension bridge that links Shibaura Wharf by Tokyo Bay to Daiba, and was opened in 1993 to connect the seaside city center with the center of the metropolis as a basic transportation facility. In the form of a suspension bridge with the design of a free and graceful curve and an arch that seems to cut through Tokyo Bay, its appearance has made the bridge a beloved sight for many people as a landmark for the new Tokyo Bay area. 
The bridge is not only a traffic route with an expressway and a monorail, but it also has a walking route that can be traversed over its 1.7 km. On the way to Daiba from Shibaura Wharf, it's also great to walk over the bridge while admiring the view of ships crossing the bay and a modern waterfront.   
In Daiba, there is an area called Daiba Park which has remnants of an encampment built to confront the American armada in 1853 when it forced Japan open to the world. The view from this place, famous in history for opening up Japan, is incredibly beautiful for seeing Rainbow Bridge up close. Also, the area surrounding Odaiba Kaihin Park which has a sandy cove extending from Daiba Park is also a popular tourist spot. With a strolling path along the beach with a view of the bridge, the uniquely designed Fuji-TV headquarters with the giant ball that seems to float in the air (designed by Kenzo Tange who also designed the Tokyo Metropolitan Government Building in Shinjuku), and other sights, a futuristic view of a waterfront has merged the sea and nature, and a new Tokyo landscape has been born. 
Admission: Free
- Guidebook from Planetyze about Rainbow Bridge
- Reviews from TripAdvisor about Rainbow Bridge
- Tours of Rainbow Bridge
3. The National Art Center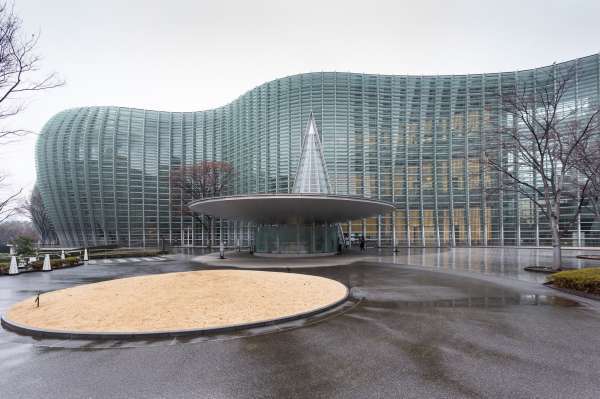 The glass wall exterior follows a natural curve just like a curtain. There are places to sit everywhere within the museum and you can relax bathed in the natural light that floods in from the curtain wall. The expansive museum space is comfortable no matter where you go. Another place of note is the atrium near the entrance. There are 2 reverse cones that really stand out and both of them are a café and restaurant. They are free-standing structures without any supporting pillars so they seem to be floating in space…The 3rd-floor restaurant "Brasserie Paul Bocuse Le Musee" is a Michelin 3-star French establishment produced by Paul Bocuse. The first branch opened outside of France is visited by gourmets from all over the world. While there is admission to enter the exhibition rooms, entry into the atrium outside of the café and restaurant is free.  
Like the Musée d'Orsay, the Kunsthaus Zürich and other world-famous museums of fine art, the National Art Center in Tokyo also exhibits famous works of art at the same time in a grand space. There are many modern paintings by Impressionists such as Monet, Renoir and Van Gogh which you can see up close. As well, there is a plentiful introduction of contemporary art including media art with the latest technology and special exhibitions by young artists.
There is a shop that occupies two places on the 1st and basement floors. The branch on the 1st floor sells items such as original goods and pastries via collaboration with a venerable shop in Tokyo, and this is the place to obtain products that cannot be bought elsewhere. In the basement branch, there is new art from Tokyo, regardless of popularity and genre, including manga, art books and works by young designers.  
Admission: Various
- Guidebook from Planetyze about The National Art Center
- Reviews from TripAdvisor about The National Art Center
- Tours of The National Art Center
4. Tokyo Tower
Tokyo Tower was built as a radio broadcast tower in 1958, during a point in time when television began to spread throughout Japan. The construction costs of the tower were immense at over 3 billion yen. The tower was built during a time when Tokyo started flourishing economically and since then, it has become a symbol and landmark for the rapid industrial growth of the city. Although the newly established Tokyo Skytree has garnered much praise and attained popularity due to its futuristic design, Tokyo Tower attracts visitors for its spectacular views. In one section of Tokyo Tower's main observatory deck, the floor is constructed entirely from glass so visitors can gaze almost 120 meters down below at the ground. Furthermore, there is a special observatory located at 223 meters above ground level.  
Tokyo Tower during the night is lit up to match the season or special occasions. During Valentine's Day the tower is illuminated with holograms of valentines and throngs of couples and families visit the tower during this time. Furthermore, there are oftentimes some special events occurring at the Tokyo Tower, such as yoga courses or music appreciation events. As there is probably not enough to see or do at the tower to justify a full day there, the best option is to spend the day sightseeing and head to the tower at night to catch the impressive views of the city.  The Tokyo Tower, which is located in Minato-ku, is accessible from Asakusa, Tokyo Station, Ueno, Akihabara and Roppongi. It is also highly recommended to book a hotel near Tokyo Tower; gazing at the tower from your room after a long day of sightseeing could easily be one of the highlights of your vacation.  There are many overseas tourists at Tokyo Tower, and staff at the tower and the surrounding hotels can provide assistance in English.    
Admission: Adult: ¥ 1,600 / Child: ¥ 1,000
- Guidebook from Planetyze about Tokyo Tower
- Reviews from TripAdvisor about Tokyo Tower
- Tours of Tokyo Tower
5. Tokyo Midtown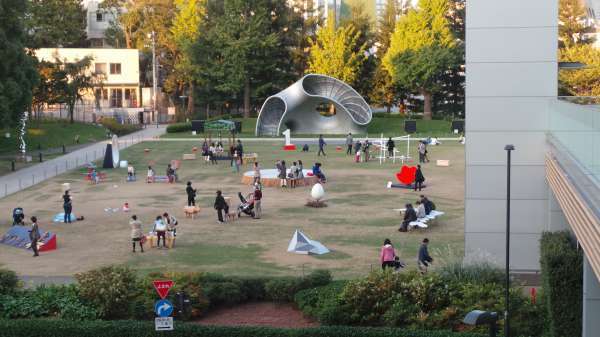 Since its opening in 2007, it's been the new landmark that has affected the masses of people in Roppongi. Tokyo Midtown is a multi-purpose complex with a new sensation where you can feel that there is art everywhere along with the beautiful interior and spacious garden.
Tokyo Midtown, which continues to show what a new city should be since its 2007 opening, is a multi-purpose community consisting of 6 buildings and a wide green space. One of those buildings, Midtown Tower, has that view of a new skyscraper along with Roppongi Hills as Tokyo's tallest building. Within Tokyo Midtown, there are various shops, restaurants, offices, a hotel, a clinic, and other facilities, and is also famous as a place for art. The Suntory Museum, a historical facility that was first opened in 1961, the art research center 21_21 DESIGN SIGHT, and the base for the design network, Tokyo Midtown Design Hub, have all been moved and opened here at Midtown to hold a variety of planned exhibitions of any size. There is also the first-class hotel, Hotel Ritz-Carlton, within Midtown that has also become the talk of the town.
There is a green space at Tokyo Midtown that is so lush that it's hard to believe that it is located in Roppongi, one of the main entertainment quarters of Tokyo. With the appearance of this green space, the area has transformed from just a mere place to consume and spend to a neighborhood to relax. In Midtown Garden, there are trees such as cherry and camphor whose branches spread out and a brilliant green grassy plaza which is filled with people taking a break. As well, LAN can also be used not just inside the buildings but in the garden so that you can make use of that high technology while relaxing there. In winter, there is a skating rink and Christmas illumination, and other various events held throughout the year, so that Tokyo Midtown has become a popular spot where endless numbers of people come to meet.
Admission: Free
- Guidebook from Planetyze about Tokyo Midtown
- Reviews from TripAdvisor about Tokyo Midtown
- Tours of Tokyo Midtown
6. Mori Art Museum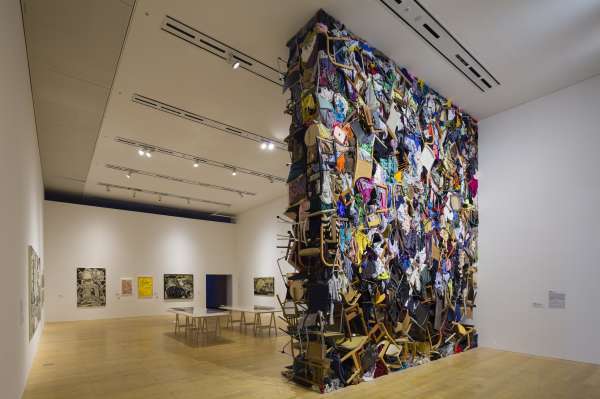 The Mori Art Museum on the 53rd floor of Roppongi Hills is a place where you can enjoy the latest contemporary art and Tokyo City View from a 360-degree observation deck. You can feel that the streets of Tokyo is art in itself. At this art museum which opened in 2003, the motto is "Art & Life: The realization of a society where you can enjoy art in any situation within life" (Fumio Nanjo, Mori Art Museum Director), and exhibitions of the world's artists are held with a focus on contemporary art.
Admission into the museum is included as a set with entry into the Tokyo City View observation deck on the 52nd floor, so you can enjoy the art and a panoramic view of the city right from the deck. You can especially get a close view of Tokyo Tower which is very beautiful. There is also a stylish café and bar there so you can also enjoy a break and a meal while viewing the scenery of Tokyo. In particular, the Mori Art Museum is open late so it's possible to savor both the art and the night view up to 10 p.m. Enjoying the art and the Tokyo scenery as a set is a refined arrangement that exactly matches art and life.
Furthermore, for extra admission, you can also get up to the heliport on the very top floor. Unlike that view seen through the glass of the observation deck, you can experience that dynamic view while feeling the air around you. Having fun, the nightlife, and then art. If you want to spend a day in Roppongi with all of that entertainment and energy, then a visit to enjoy the Mori Art Museum on the top of a skyscraper and the Tokyo view should be on your list.
Admission: Adult: ¥ 1,800 / Child: ¥ 600 
- Guidebook from Planetyze about Mori Art Museum
- Reviews from TripAdvisor about Mori Art Museum
- Tours of Mori Art Museum
More tips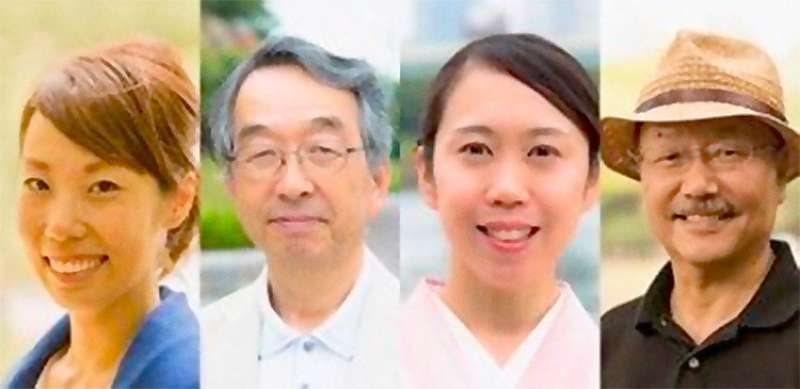 Here's the thing:
Even with all these information, getting to the destinations that you want could be quite challenging!
Look, it's not a secret anymore. Japan's public transport system is quite complicated, and could easily overwhelm first-time visitors. You could easily get lost in the middle of navigating your way to your favorite attraction spots.
Don't worry!
I have an easy way out for you; hire a private guide! If you hire a private guide, they could easily take you to your destinations in no time at all. Moreover, they could also be your private translator and help you overcome language barrier problems easily!
If you are thinking of hiring a private guide, then I recommend you to get one from Triplelights! They have the best-recommended list of a guide who would cater to your every travel needs. Their excellent customer service would also make sure that you get the best guide that would understand your preferences best.
In this article, I have reviewed the best day trip destinations from Tokyo, and what you can do in those places. Here's to a good trip in Tokyo!
Blogs about Tokyo
Tokyo Tour Guide - What is a Good Tour Guide 
Best Areas to Stay in Tokyo - Where to Stay in Tokyo?
9 Best and Most Popular Tokyo Tours
Best Virtual Tours & Experiences in Tokyo
Looking for an authentic travel experience in Tokyo but still stuck at home? No problem! Why don't you start by taking a Virtual Tour for a moment's escape from the mundane and chaos with our professional guides in Tokyo?
Top Experiences:
→
More Tokyo Virtual Tours & Experiences