Tsukiji Fish Market was one of the largest fish markets in the world and the largest one by far in Japan. It was also a famous sightseeing spot in Tokyo. You could enjoy seeing the busy market, try some delicious fresh sushi, and even see a tuna fish auction in the wee hours of the day. It was closed on October 6, 2018 and moved to the Toyosu area. It has reopened as the new Toyosu Market on October 11, 2018. This new Toyosu Market is made up of stores from the Tsukiji Inner Market, whereas the Tsukiji Outer Market is still open in its original location.
The Tsukiji Fish Market
The Tsukiji Fish Market was a famous fish market in Tokyo and it had a history of 80 years. The land that the market stood on was reclaimed land, built by the Tokugawa Shogunate in the Edo era. And the name "Tsukiji" literally meant constructed land. It was a quiet residential area for families of the samurai. But with the fish market built, it soon became a busy commercial area. The Tsukiji area is very closely located to the Ginza area, a famous area for shopping. The Kabukiza building, a theater just for the traditional Japanese performance of Kabuki, is also close by. So, it was and still is a good idea to eat delicious fresh sushi for breakfast and go sightseeing or shopping after that.
The main fish market in Tokyo was originally the Nihonbashi Fish Market. Unfortunately, this market was destroyed in the Great Kanto Earthquake of 1923. The market was rebuilt in the Tsukiji area and the Tsukiji Fish Market was born in 1935. Most of the buildings of Tsukiji Fish Market are from this original construction period 80 years ago. Originally, this fish market was for wholesale only. However, over the course of time, some shops started selling retail to ordinary customers instead of just to professionals. Now you can buy fresh fish and other food in smaller portions and at a good price. Because of this, Tsukiji Fish Market was always overcrowded with shoppers. It became especially crowded before the New Year Holidays because people came to buy ingredients for their holiday feasts.
Tsukiji Fish Market was divided into the Inner Market for wholesalers and the Outer Market for retailers. The Inner Market started their business in the early hours of the day. Auctions and sales were held and fresh seafood and produce were delivered to restaurants all over the greater Tokyo area. The public could not enter to sightsee the market until after 10 am, unless they were participating in the tuna fish auction viewings. In the Outer Market, there are numerous shops and restaurants the public can enjoy, and good news for us, it's still there in its original location in Tsukiji. Even after the closure of the Inner Market, the Outer Market is still popular and busy with people. For more information click here.
New Toyosu Fish Market
The reason why the Tsukiji Fish Market was moved to Toyosu was because it was becoming too old and overcrowded. The buildings have stood there since 80 years ago and the Tokyo Municipal Government wished to move it to a new, cleaner, more tourist friendly building. It was originally supposed to have moved in November of 2016, but the newly elected governor put it on hold due to contamination of the ground the new building was built on. Safety measures were carried out and the governor declared it safe to move into in 2018.
Toyosu Hours and Days of Operation
The new Toyosu Market has just opened on October 11, 2018. The opening hours are from 5 am to 5 pm. And the market is closed on Sundays, holidays, and the days decided by the market, so make sure it's open before you go. The opening hours of the respective restaurants are all different. Some open at 5 or 6 am and close after lunchtime, and others open around 10 am and close at night. The restaurants are very crowded, especially the ones serving fresh sushi, so if you want to eat at one of these restaurants, make sure you're ready to go there very early and wait in line.
At this new market, there are three different buildings: the Fresh Produce Building, the Wholesale Seafood Building, and the Retail Seafood Building. At the Retail Seafood Building, you can buy fresh seafood as well as eat at the restaurants. This is the building that is probably the most crowded. At the Fresh Produce Building and the Wholesale Seafood Building, there are window lined aisles on the upper floor from where people can observe the action going on inside. There will be a separate observation deck opened for observing the tuna fish auctions, but this will not be open until January 15, 2019. There is a lawn on the roof of the building so you can relax and take a breather. The view of the bay area is quite nice from the roof.
For see the structure map of Toyosu Fish Market click here.
How to get in Toyosu Fish Market
To access the new Toyosu Market, you need to get on the Yurikamome Monorail and get off at Shijo-Mae station. You can get on the Yurikamome Monorail from either Shimbashi station on the JR Yamanote line or Toyosu Station on the Tokyo Metro Yurakucho line. The Yurikamome Monorail also runs through the Odaiba area. The Odaiba area is the bay area of Tokyo and a modern town made for shopping. There are several shopping malls there along with an outlet mall and even an indoor theme park. So seeing the market in the morning and spending your afternoon in Odaiba maybe a good sightseeing plan. On the other hand, if you are an avid walker, you can also try walking the 3 km between the new Toyosu Market and the Tsukiji Outer Market. Some people who went to the new Toyosu Market to eat at one of the restaurants say that it took so long to get in line and eat, most of the market was already closed when they were finally finished with their meal. So, some people walk to Tsukiji Outer Market to go shopping. If you have the leisure to do this too, it could prove to be an interesting experience. Another place nearby you can visit is the shopping mall, Lalaport Toyosu, 2 minutes walk from Toyosu Station. You can buy souvenirs, go shopping for clothes, and even watch a movie. It's also a good place to eat breakfast or lunch if you're unable to find a place at the crowded Toyosu Market.
Make your Tsukiji or Toyosu trip even better! How?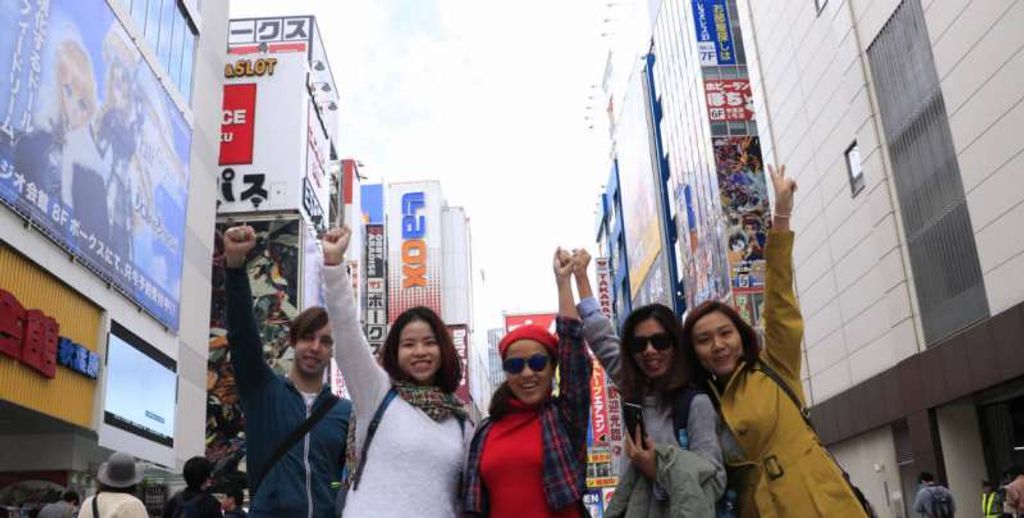 Tsukiji and Toyosu Fish Market is a busy and fast-paced place, so you can feel out of place there. Not only people but the many different choices of food can also overwhelm you. So, here's a tip: go on a private tour with a private guide!
Not sure where to find them? You don't have to look very hard. My recommendation is the TripleLights website. So many options for private tours and private guides, trustworthy and easy!
How can they make your trip better? Well, private guides will accompany and guide you during your Tsukiji or Toyosu trip. They will give suggestions on the best food to eat at both places, so you're not missing anything out. You also won't have to worry about its hours of operation, as your guide will make sure everything is set for your trip. So much more convenient!
Recommended tours
Here are just a few of our vast range of tours:
Tsukiji Fish Market Morning Tour
Daytime Tour to Tsukiji Fish Market
Odaiba and Toyosu Market Half Day Tour
Why TripleLights Will Help You To Get The Most Of Your Japan Trip?
TripleLights the Best Private Tours and Locals Guides across Japan.
If you are interested to know more and save your time during your trip to Tokyo, you can Send a Message to our local guides to get a customized itinerary and quotation for an unforgettable experience.
You also can Request a Tour just for You. Just type what you would like to see and guides all over Tokyo will send you quotes and their recommendations according to your interested and budget.
TripleLights website you can find the best professional Local Guides all across Japan to help you plan your trip. Check our Local Guides for Japan and Tokyo.
Want To Know What to do in Japan?
To find out more Blogs with Tips about Tokyo and Japan click here.
For information about Private Tours, popular Activities in Tokyo and Japan click here.