Looking for fun things to do in Tokyo in December? Watching dazzling beautiful illuminations during winter season, enjoying Christmas event in Tokyo Disneyland, and celebrating at Meiji Jingu on New year's eve…etc. There are also many annual events and festivals that you can only enjoy in December. Ready to have a fun and romantic vacation here? Below are the 10 best places to visit in Tokyo in December.
A green theme park where you can move around inside by car
There are attractions such as a ferris wheel, a children's zoo and a flower garden within this park which recreates a rural German landscape and the area is popular for day trips.
A theme park for day trips from Tokyo Within its large 80ha, there are plenty of ways to enjoy Tokyo German Village which has a central open grass space surrounded by a pond, attractions, activities and a dog run along with opportunities to take part in the harvest of fruits and vegetables. From spring to fall, there are blossoms of seasonal flowers beginning with 5000 roses representing 200 species, and in the winter, the park is enveloped in a magical atmosphere thanks to the illumination. It's also great to visit by car since auto tr...
Click here for more information.
Phone
0438-60-5511
Address
419 Nagayoshi, Sodegaura, Chiba Prefecture 299-0204
Price
- Adult: 1200 JPY
- Child: 600 JPY
- Junior high and high school students: 800 JPY
- 4 years to elementary school students: 600 JPY
Website
japan-chiba-guide.com
A trendy area. A neighborhood where you can encounter cutting-edge fashion and various other items
A sophisticated sense of high class engulfs the pedestrians walking there. From the main street to the back streets, there is a variety of shops. Even walking through the back alleys brings an air of celebrity life.

Omotesando's origins lay in the opening of an avenue leading to Meiji-Jingu Shrine in 1920. There are a number of reasons behind its birth as a trendy area. One reason is the appearance of the Doujunkai Aoyama Apartments where high-ranking officials and people of culture had resided and the Washington Heights (the facility that housed GHQ officers) that was constructed after the 2nd World War. The Washington Heights was then opened as the Athletes' Village at the 1964 Tokyo Olympics.
Click here for more information.
Website
www.gotokyo.org
Tokyo Midtown, a mix of art, people and nature
Since its opening in 2007, it's been the new landmark that has affected the masses of people in Roppongi. Tokyo Midtown is a multi-purpose complex with a new sensation where you can feel that there is art everywhere along with the beautiful interior and spacious garden.
An artistic area of design born in Roppongi Tokyo Midtown, which continues to show what a new city should be since its 2007 opening, is a multi-purpose community consisting of 6 buildings and a wide green space. One of those buildings, Midtown Tower, has that view of a new skyscraper along with Roppongi Hills as Tokyo's tallest building. Within Tokyo Midtown, there are various shops, restaurants, offices, a hotel, a clinic, and other facilities, and is also famous as a place for art. There is also a beautiful ice skating rink that you can check out.
Click here for more information.
Business hours
- Everyday (11:00 AM ~ 9:00 PM )
Address
9 Chome-7-1 Akasaka, Minato, Tokyo 107-0052
Phone
03-3475-3100
Price
- Free
Website
www.tokyo-midtown.com
The evolved business district with an eye for a fine view and enjoyment
Marunouchi, the heart of the Japanese economy, is filled with businessmen from sunrise to sunset. However, because of redevelopment, there is now also plenty of fashion and cuisine, and the area is popular as a sophisticated business district.
The new and improved Marunouchi Marunouchi is the office area of buildings for big banks and big business. This is ground zero for Japan's finance and economy where businessmen smartly walk to and fro. This area which spans between the outer gardens of the Imperial Palace and Tokyo Station once had the image of a stuffy and dreary business area, but going into the 21st century, there has been a period of redevelopment which has led to it becoming not just an area for businessmen but also a posh and fashionable place where average people...
Click here for more information.
Website
www.marunouchi.com
12 million visitors a year. Yebisu Garden Place has risen from the remains of a factory to become a sophisticated complex
While evoking nostalgia from its brick exterior, it has an urban atmosphere. It's an open space with lots of greenery where you can spend a luxurious time tasting beer that is the pride of Japan.
Yebisu Garden Place originated from a beer brewery Yebisu Garden Place was born on the site of the former Sapporo Breweries. It is a multipurpose complex with a department store, a hotel, restaurants, movie theaters, a museum of art, etc. Yebisu beer is a premium beer with 100% malt developed by Sapporo Beer. Started over 100 years ago, it won the Gold Prize for excellence at the 3rd National Industrial Exhibition in 1890. After that, it brought so much influence that the area was called Ebisu.
Click here for more information.
Business hours
- Everyday (11:00 AM ~ 8:00 PM )
Phone
03-5423-7111
Address
4-20-3, Ebisu, Shibuya-ku
Website
https://gardenplace.jp/
Enjoy your time at Tokyo's Disneyland
Tokyo Disney Resort is comprised of both Tokyo Disneyland and Tokyo Disney Sea. Tokyo Disney Resort is Japan's leading amusement park.
Tokyo Disneyland Modeled after the Magic Kingdom in America's Disneyland, there is also Cinderella's Castle as the symbol of Tokyo Disneyland. The entire area is divided into seven theme parks with a total of 43 different attractions, 53 merchandise shops and 53 food and beverage outlets. Near the main entrance of the park, you can find the World Bazaar, which has souvenir shops lined up as an arcade street and is modeled to replicate the atmosphere of the early 20th century in the United States.
Click here for more information.
Business hours
- Everyday (8:00 AM ~ 10:00 PM )
Address
1-1 Maihama, Urayasu, Chiba Prefecture 279-0031
Phone
045-330-5211
Price
- Adult: 6400 JPY
- Child: 4200 JPY
Website
www.tokyodisneyresort.jp
Feel the mystical energy of the Meiji Shrine
Meiji Shrine, located in the Shibuya district in Tokyo, attracts the greatest number of visitors from throughout Japan for hatsumode or the first shrine visit of the New Year. If you happen to be lucky enough on the day of your visit, you could catch a glimpse of a traditional wedding ceremony.
Every New Year's Day on 'hatsumode', Meiji Jingu, which is over 700,000 square meters in size, receives around 3 million worshippers, reflecting its ability to attract the greatest amount of visitors in the nation. Considering the amount of lush greenery located inside the perimeters of Meiji Jingu, it is hard to believe that it is located in the same vicinity as bustling commercial centers such as Harajuku, Omotesando and Shibuya.
Click here for more information.
Watch this 360º VR Video of Meiji Jingu Shrine and feel like you are walking there yourself.
Business hours
- Everyday (6:00 AM ~ 4:00 PM )
from dawn to dusk
Address


1-1 Yoyogikamizonocho, Shibuya, Tokyo 151-8557


Phone
03-3379-9281
Price
- Free
Website
www.meijijingu.or.jp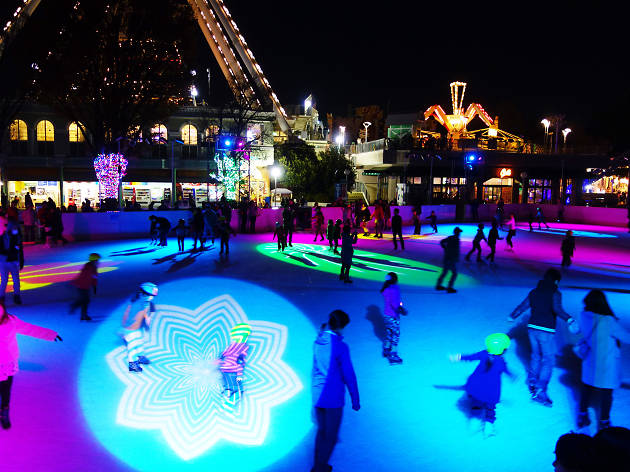 Enjoy your time at Toshimaen Amusement Park's beautiful Skate Rink
This is an outdoor, traditional skating rink that is family friendly and beautifully lit with Christmas lights during the winter. It is directly next to a cinema complex as well as the actual amusement park, so you have many options to select from when visiting Toshimaen in the winter time. This is the perfect place to go if you are looking to spend a day with your family on the weekends during the holiday season, as the entire amusement park is adorned in festive decorations in lieu of the celebrations going on.
Business hours
Varies depending on season and day of week - Check here for their official calendar.
Address
3-25-1 Koyama, Nerima-ku, Tokyo
Phone
03-3379-9281
Price
- Skate Set (Amusement Park + All-Day Skate Rink Entrance): 2100 JPY
- Children 12 and under (after 3PM daily): 1600 JPY
- On days that the amusement park is closed: 1300 JPY for everyone
Website
http://www.toshimaen.co.jp/event_iceskate/index.html
Experience the warmth of a traditional Japanese hot spring and soak in its cleansing waters
When visiting Tokyo in December, the weather can get quite cold, with temperature dropping to an average of 5ºC (41°F) in early morning and at night, excluding wind chill factors. When staying in the city for winter, you should definitely check out the Tokyo Dome's onsen spa. An "onsen" is a Japanese hot spring and has evolved to also refer to bathing facilities and inns that surround hot springs. Although the most extraordinary natural hot springs are outside of Tokyo, if you are spending a weekend in the cold city and want to experience an onsen, definitely make your way over to the Tokyo Dome Natural Onsen Spa LaQua 8, as it is right at the center of the city with easy transportation access. Facilities include an open-air bath, public bath, saunas, and of course several restaurants in the relaxation area. It has the aura of a resort, so you will be able to bathe luxuriously while maintaining an onsen experience. Onsens are just one of the experiences in Japan that are unique to its culture and geography - for more specific hidden gems in Tokyo, you should consider having a private tour guide or joining a private tour group to maximize your localized experience during your stay.
Business hours
- Everyday, 11:00 AM - 9:00 AM (the next day)
Address
LaQua 1 Chome-1-1 Kasuga, Bunkyo, Tokyo
Phone
03-3817-4173
Price
- Adults: 2634 JPY
- Children: 1836 JPY
- Additional surchage on late-night and holiday usage
Website
http://www.laqua.jp/pages/en/index.html
Ready To Spend Your December In Tokyo?
Spending the winter in Tokyo can be daunting especially if you are not familiar with the language, transportation, or culture. Whether it is spending 1 day, 1 week, or all of December in Tokyo, I recommend Triplelights, as they have over 1,000 professional tour guides that can help you navigate Tokyo efficiently while eliminating the risk of getting lost. Not only that, but the guides are all experts in their local areas so you would be able to receive customized itineraries with whatever you want to specifically do or see in the city. As discussed earlier, winter in Tokyo can be quite cold, so if you are not willing to make trek to any of the above locations via public transportation but still want to experience the city's wonders, check out the private car tours that are offered, and feel free to send a message to any of the local Tokyo guides for more information about planning your trip in December.
Furthermore, if none of the above locations are aligned with what you want to do in Tokyo, you should check out all the other cultural activities that are happening in the city as there are so many more interesting and fun activities to partake in.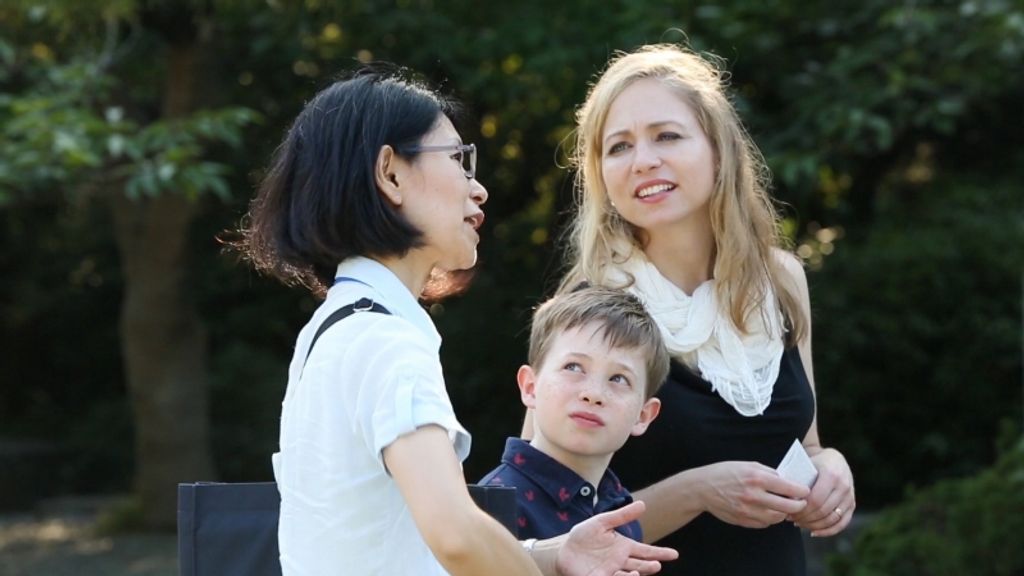 Blogs About Traveling To Tokyo
Cool Things To Do In Tokyo: 2019 Hidden Gems
Tokyo Itinerary: Tokyo Up To 3 Days - First Timers
9 Best And Most Popular Tokyo Tours
Tour Guide In Tokyo: Pros And Cons To Hiring One
Tokyo New Toyosu Fish Market: Complete Guide Before You Visit