What is an "onsen"?
An "onsen" (温泉) is a natural Japanese hot spring facility that comes in many types and shapes, but usually includes either an outdoor or indoor bathing facility. When visiting Japan, you can find onsens usually as part of a hotel, traditional ryokan, or a bed and breakfast. If you have seen the symbol ♨ before, then you have already encountered the sighting of an onsen! These hot springs typically use the natural hot water produced from geothermally heated springs (that often emerge as Japan is a volcanically active country) and have different benefits for the skin and body, such as alleviating muscle pains, chronic fatigue and stress and healing skin problems. A note to make is that many of these onsen do not allow visitors with tattoos to enter, as they traditionally symbolize members of the yakuza (Japanese mafia). If you are looking to include a visit to an onsen in your Japan itinerary, whether it is for 1 day, 1 week, or 1 month, you should definitely check out GoWithGuide, as they have over 1,000 local tour guides that can take you to the best onsen that will fulfill all your needs and ensure that you are not restricted in any way.
The attraction is a natural hot springs that bubble up from 1400 meters underground. Along with onsen each for men and women, there are 14 types of onsen. Relaxing inside the facility while wearing a yukata is popular. Click here for more information.
Business hours
- Everyday (11:00 AM ~ 9:00 AM )
(9 o'clock the next morning)
Phone
03-5500-1126
Price
- Adult: 2480 JPY
- Child: 1000 JPY
Weekends and holidays 2680 yen
Website
www.ooedoonsen.jp
In addition to an open-air bath and a huge public bath, the onsen facilities also include a variety of low-temperature saunas, a relaxation area and restaurants. This is an onsen with the sensation of a resort where you can spend a relaxing day. Click here for more information.
Business hours
- Everyday
11:00am-9:00am(the next day)
11:00am-11:30pm(Baden Zone)Opening times may vary afterwards depending on the facility since some areas will only be open to women so please check the homepage
Phone
03-3817-4173
Price
- Adult: 2634 JPY
- Child: 1836 JPY
Additional surcharge on late-night and holiday usage
Website
www.laqua.jp
This onsen where adults can relax doesn't allow anyone under junior high school age. Along with a natural onsen, there is also a spa, a stone sauna, the Bade Pool, a regular sauna and dining facilities. Click here for more information.
Business hours
- Everyday (10:00 AM ~ 11:00 PM )
Phone
03 -3990-4126
Price
- Adult: 2310 JPY
Elementary school kids and younger children and children under 12 yrs old are not allowed in the facility. We ask you to show your ID card.
This is the No. 1 onsen area as designated by the country. The quiet and relaxing onsen town is a different world next to the hustle and bustle around the station. It's also ideal as an activity place for Oku-Nikko. Click here for more information.
Phone
0288-53-3795
Website
www.jnto.go.jp
An onsen facility ideal for day trips with an eye-catching modern exterior. There are 8 large and small outdoor baths with Japanese cuisine evoking the four seasons, a gymnasium and other features to provide a healing space for adults. Click here for more information.
Business hours
- Everyday (10:00 AM ~ 10:00 PM )
Phone
0476-28-8111
Price
- Adult: 700 JPY
Children under elementary school age are not allowed to enter the facility
Website
www.yamatonoyu.com
All of the onsen in the town come straight from 100% sourced hot springs. Enjoy a stroll through the town or engage in the "Kyu-to Meguri" which is a tour of the 9 outdoor baths in a retro atmosphere with a rich variety of hot spring quality. Nearby is Jigokudani Yaen-Koen (Monkey Park). Click here for more information.
Phone
0269-33-2921
Price
Varies depending on the facility
Website
www.shibuonsen.net
Shirahone Onsen is a hot spring town which is filled with a rustic beauty surrounded by deep forest and the Yukawa Valley. There are 10 springs in the town, and its charm lies in the enjoyment of the subtly different qualities of the waters at each inn. Click here for more information.
Business hours
- Everyday (12:00 AM ~ 12:00 AM )
Phone
0263-93-3251
Price
- Free
Website
www.shirahone.org
Earning 2 stars on the Michelin Green Guide Japon, many types of hot springs can be enjoyed along with outdoor baths, foot baths and facilities for day trips. Click here for more information.
Phone
0269-85-3111
Price
Varies depending on the facility
Website
nozawakanko.jp
Starting with an aquarium and workshops in traditional handicrafts, this is a resort facility where you can also enjoy shopping and the great outdoors. You can enjoy the view of Mt. Fuji from Lake Ashi and fully savor the beautiful landscape. Click here for more information.
Phone
0460-83-1151
Price
- Free
Hakone-en Aquarium: Adults – 1500 yen, Children – 750 yen
10. Hakone Hot Spring Town (Hakone)
Hakone is a town of hot springs with a long history where you can enjoy looking at Mount Fuji while bathing in hot springs surrounded by nature. Because Hakone offers hot springs for resting, skin beauty, curing and much more, baths can also be selected by your bathing purpose. Whether you make it a day trip or decide to stay at an inn, there are numerous ways of enjoying Hakone. Click here for more information.
Phone
0460-85-5571
Website
www.hakone-english.com
Want To Visit Onsen In Japan?
If you are looking to relax during your trip to Japan at a traditional onsen and eliminate the risk of being turned down by establishments due to tattoos or facing language and cultural barriers, you should definitely consider having a private tour guide or joining a private tour group from GoWithGuide. There are many rules and traditions in Japan that foreigners visiting may not know about, such as not tipping at establishments or for any services, not eating on public transportation, and others that can sometimes shock foreigners. That being said, if you want to ensure you have the most memorable experience in Japan while avoiding miscommunication and getting lost, check out all the different activities you can do in Japan (including visiting an onsen), and send a message to any of the guides in the areas you want to visit for a customized itinerary and price quotation. Lastly, if you are visiting Tokyo for a short amount of time and want to maximize your time efficiently and avoid losing time by getting lost on public transportation, aside from having a private tour guide, you can also check out all the private car tours that GoWithGuide offers, so you can avoid the crowded foot traffic that takes place in train stations in large metropolitan cities like Tokyo.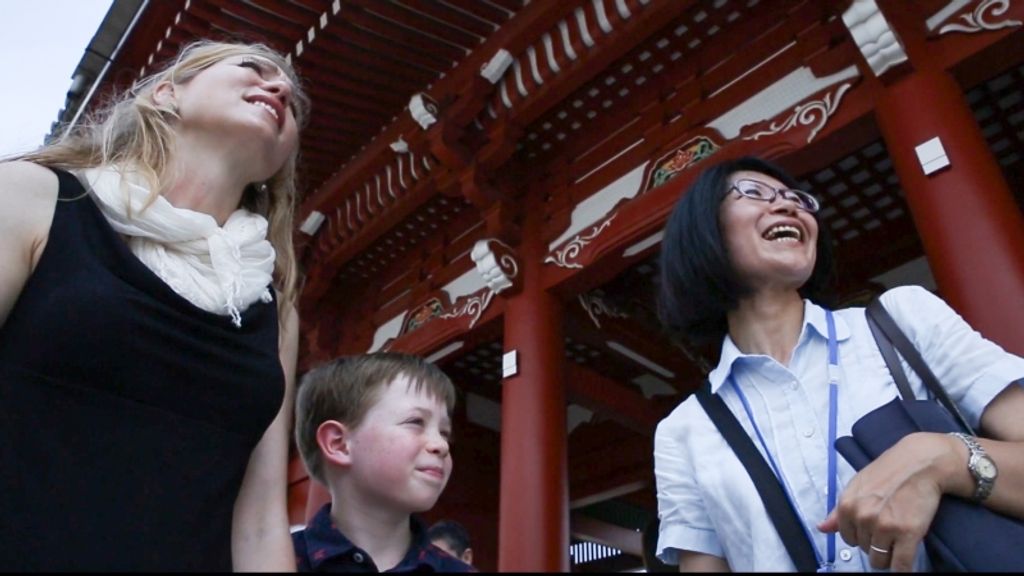 Blogs About Traveling To Japan
13 Top Tokyo Tourist Attractions by Local Guides
9 Best Tokyo Food Tours by Local Guides
Shinjuku Gyoen Park: Tokyo Top Park You Must Visit
Top Japanese Culture: 5 Traditions You Must Try in Japan
Tour guides in Tokyo and Kyoto - Worth the cost?
Pin it: