Visible from all corners of the entire city, the Tokyo Skytree stands tall against the backdrop of the Tokyo skyline. This broadcasting and observation tower not only gives visitors a stunning view, but also has many shops, restaurants, and attractions. Be sure to add the Tokyo Skytree to your list of places to visit in Tokyo. And to help you make the best out of your trip to the Tokyo, we have prepared a comprehensive guide to show you how to get there, and what to do once you're there, as well as a comparison between Tokyo Skytree and Tokyo Tower.
Tokyo Tower vs Tokyo Skytree
Although Tokyo Tower was built almost half a century ago, people still recognize it as Tokyo's iconic symbol. The view provides a close-up on the mega-metropolis and is most beautiful at night when the whole tower changes colors!
Beneath the tower lays 'FootTown', a complex for selling souvenirs, restaurants as well as an aquarium for viewing. Not only that, if you're a fan of the popular anime One Piece, then you should also know that this is where the only One Piece theme park in the world is!
The Tokyo Skytree in contrasts is a broadcasting tower that was built in 2012, and ever since it has opened to the public, it has become an international phenomenon. The Tokyo Skytree height is 634 meters which makes it 300 meters taller than the Tokyo tower and also has a pagoda-like design much loved by the locals.
At it's base is the Tokyo Solamachi where over 300 shops and restaurants can be found. There is also the planetarium and a beautiful aquarium as well. If you have plenty of time, definitely give both a visit as each would undoubtedly give you an unforgettable experience. If you only have time for one though then you might want to see which is more interesting for you. For a cultural-oriented and historical look on Japan, then check out Tokyo Tower or if you want something a little bit more modern with a bit of a detour for shopping then visiting Tokyo Skytree Town is the better option.
How do you get to Tokyo Skytree?
By train

Depending on where you are, there are various trains you can take, you can even take by train, your main goal is to get to Oshiage station or Tokyo Skytree station. The following trains will take you directly to either of them:
TOBU SKYTREE Line
If you're in Ueno station, take the Tokyo Metro Ginza line and transfer to Tobu Skytree Line once you've reached Asakusa station. After 3 minutes, you will reach Tokyo Skytree station.
Tokyo Metro Hanzomon Line
If you're in Tokyo station, get on the JR Sobu Rapid Line directly to Kinshincho Station. Then transfer to the Tokyo Metro Hanzomon Line to get to Oshiage station.
Keiyu Line / Toei Asakusa Line
If you're in Haneda Airport or Shinagawa station, then taking the Keiyuu Line / Toei Asakusa Line will take you directly to Oshiage station without any transfer.
Narita Sky ACCESS Keisei Line
If you're in Narita Airport, the most straightforward way is the Sky Access Keisei Line which can get you directly to Oshiage station without any transfer and only in roughly 49 minutes.
Note: If you can not find any of these trains at your station, then just look for trains that head to major stations since all of them are interconnected.
By Skytree Shuttle
The Skytree Shuttle bus is also a relatively stress-free option if you want an alternative to trains. You can find them in major locations such as Ueno-Asakusa Area, Haneda Airport, Tokyo Disney Resort, Shiki Station, Odaiba, Wakoshi Station, and Asakadai Station.
Ticket fees: 220 Yen (Adult)/ 110 Yen (Child)
*2% cheaper if you use an IC card, 5% if you have a One Day Pass
You can find the timetable here.
By Taxi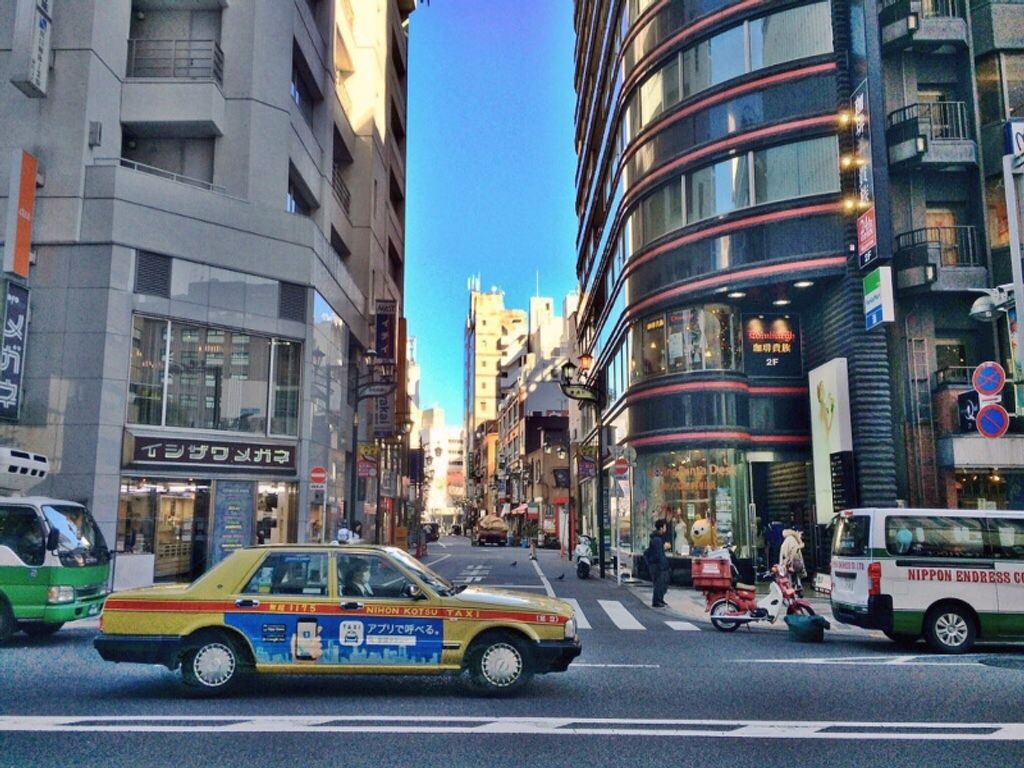 A taxi is always a convenient and comfortable option for those who are willing to pay just a little bit more. To give you a heads up of the price, a taxi from Tokyo Station to the Skytree can cost around 2,900 Yen, for more information about bus stops as well as fees check out here.
What to do at Tokyo Skytree?
Go up the observation decks!
Naturally, if you've made it here then you must get to the observation decks of the tower to see what it's like from the tallest building in Tokyo.
Here are your options for tickets:
Regular same-day ticket (2,100 Yen for 18 years and over/ 2,300 Yen Holidays): Provides entry to the Tempo Deck which has a beautiful panoramic view of the city. You can pay an extra 1,000 Yen (1,100 Yen Holidays) to get to the Tembo Galleria which is 100 meters higher.
Fast SkyTree ticket (3,200 Yen for 12 years and over): This is a special ticket that allows you to skip line specifically only for tourists, be sure to bring your passport if you want to purchase this ticket. If you want to go up to the Tempo Galleria then you can buy the combo ticket which is around 4,200 Yen for 12 years and over.
*Maximum 10,000 tickets a day, reservations are Japanese only and can only be paid via Japanese issued credit cards which makes it rather not foreigner-friendly. Alternatively, in case you want to reserve a seat at a restaurant located in Skytree then they will book a ticket for you as well.
Opening Hours: 8:00 - 22:00 (last admission 21:00)
Dine at the luxurious Tokyo Skytree Tembo Deck Sky Restaurant 634 (Musashi)
Located on the Tembo Deck, diners can enjoy a unique fine dining experience of the French restaurant "Sky Restaurant 634 (Musashi)". For a huge price tag of 6,200~ Yen for Lunch and 15,700~ Yen for dinner, it is surprisingly worth it if you want to dine in for a special occasion. The spectacular food combined with a fantastic view of Tokyo makes for a memorable experience.
Looking for an alternative to Sky Restaurant 634? Then check out Tokyo Skytree Town's (Solamachi) wide array of restaurants that will definitely have something to cater to your taste. Located directly under the Tokyo Skytree, it is a great place to shop and grab a bite.
Speaking of shopping...
Shop at Tokyo Skytree Mall (Solamachi)
This Tokyo Solamachi has over 300 stores ranging from fashion, accessories, big Japanese brands, and original souvenirs. Definitely check out the Pokemon Center at the Skytree Town to buy some exclusive Tokyo-related merchandise.
Also, did I mention there's an aquarium?
Dive down the ocean floor at the Sumida Aquarium
Once you're done shopping, maybe a trip to the aquarium may be your fancy. It has a very minimalistic design, once you enter, you'd feel as if you have entered a whole new world. The aquarium also promotes interaction between visitors and staffs, you are able to see the 'behind-the-scenes' action that's going on. If you have a question while you're there then you're allowed to ask the aquarium keepers anything.
Address
5-6F, TOKYO SKYTREE TOWN Solamachi
1-2, Oshiage 1-chome, Sumida Ward, Tokyo 131-0045
Opening Hours
9: 00 - 21: 00
Ticket fees

2,050 Yen (Adult)

1,500 Yen (High School Student)

1,000 Yen (Junior High School and Elementary Students)

300 Yen (Children aged 3 and over)

Telephone
+81-3-5619-1821
Website
Sumida Aquarium
Why stop at the aquarium? Go even further by...
Gazing at the stars in Konica Minolta Planetarium (Tenku)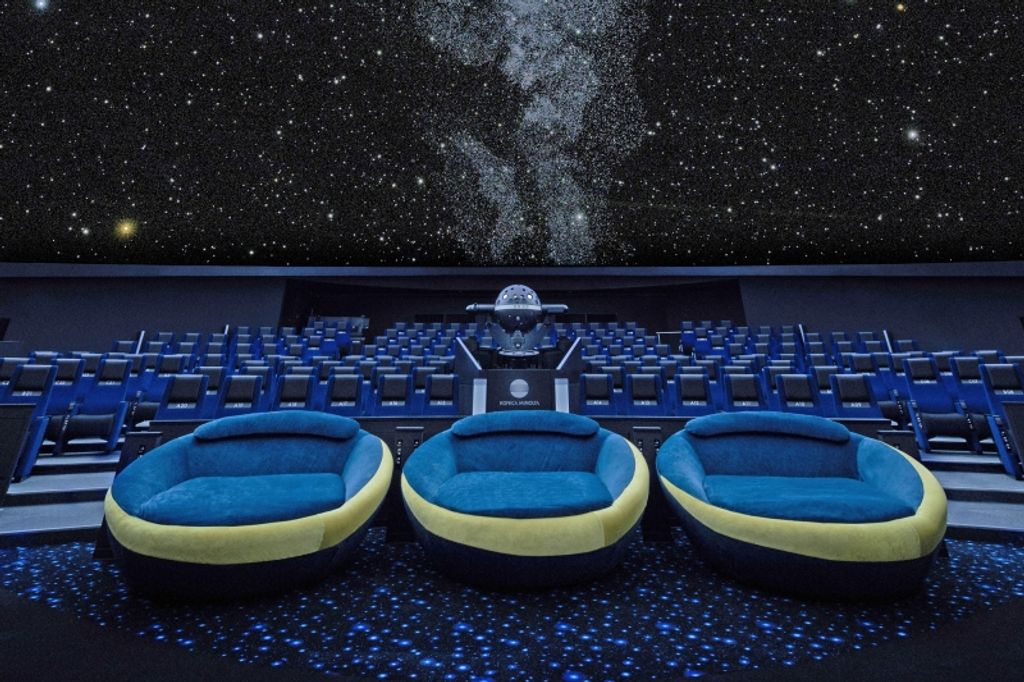 With the latest projection technology combined with high-tech surround sound, this planetarium will give you an otherworldly experience through dynamic images and immersing you into its world.
There's also the 3D Sound Dome where ordinary sounds such as the rustling of the wind, the crashing waves or the bustling city are greatly enhanced to the point where instead of watching, you'd feel as if you're actually there.
Sidenote: There is a multilingual audio service available. However, you must notify the staff beforehand as the number of devices is limited.
Address
TOKYO SKYTREE TOWN 7F, 1-1-2 Oshiage, Sumida-ku, Tokyo
Ticket Fee

Cresent moon seat 4,000 Yen (Seat for 2)

General seat: Adult 1,500 Yen
Child 900 Yen

Website
Konica Minolta Planetarium
Regained your energy after resting? Then maybe it's time to...
Ride the Sky Duck
The Sky Duck is a unique tour experience that you should not miss. It is an amphibious vehicle that travels from the Skytree to the Kameido area. The whole tour lasts one and a half hours and will let you see Edo-style houses, post-war buildings and the waterways of metropolis Tokyo like never seen before.
Service period
Every day (except 1st Jan, 24th of Feb)
Ticket fee

Adults 2,800 Yen

Children 1,400 Yen

Telephone
03-3215-0008
Website
Sky Duck (Japanese only)
The Tokyo Skytree offers a spectacular view of Tokyo that cannot be found anywhere else. The SkyTown beneath the tower provides a wide array of shops, restaurants, and attractions suitable for every one of the family. There's simply nothing not to love so you should absolutely check it out for a memorable trip of Tokyo!
Looking for more tours to go or simply want to make your trip more interesting?
Having a guide can make your trip all the more fun and exciting, you will be able to learn and appreciate Japanese culture through the eyes of a local by seeing things through a different perspective. Whether you want to make your trip more interesting or you simply haven't decided where to go, we can get you started. At TripleLights we offer the best customizable tours and Local Guides to help you on your journey across Japan.
Want to create your own tour, where you decide where you want to go? You can Send a message to our local guides to find a suitable itinerary and quotation for a memorable experience.
Want someone to create a tour for you? Then why not Request a Tour. Simply type what you would like to see and our guides will send you quotes and recommendations depending on what you're interested in as well as budget.
Over at TripleLights, we offer the best professional Local Guides across Japan that will help you plan your trip. You can also check our Private Tours for Tokyo.
Blogs About Tokyo
13 Top Tokyo Tourist Attractions by Local Guides
Shinjuku Gyoen Park: Tokyo Top Park You Must Visit
9 Best Tokyo Food Tours by Local Guides
Tokyo Skytree: Restaurant, Fee, Station & More
Tokyo Neon Lights: 5 Best Spots to See Tokyo at Night